Ceremony Locations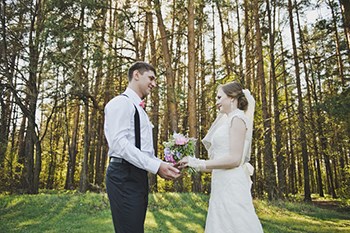 Where dazzling beauty marries extraordinary locations.
To request your FREE Wedding Planning Kit call 1-800-HOCKING (462-5464).
Hundreds of lovely cottages, rustic cabins, cozy inns, bed and breakfasts and other truly unique sites dot the Hocking Hills countryside. Each brings its own special warmth to your smaller ceremony, while a host of area Hocking Hills wedding chapels, sophisticated restaurants and hotels and lodging can accommodate larger groups of friends and family sharing your rehearsal dinner, wedding ceremony or reception.
We even have incredible events and locations for unforgettable bridal showers and bachelor or bachelorette parties. Imagine a special girls-only cabin and massage weekend, a rock-climbing expedition or a golf outing for the men in your wedding party.
If you plan to have your wedding at one of the Hocking Hills State Park locations, you will need to submit a Special Activity Permit Application.