America's Byway
The Hocking Hills America's Byway takes travelers deep into the historic hills of southeast Ohio. The Byway traverses hills and valleys and past the six non-contiguous sites of the Hocking Hills State Park, Ohio's natural crown  jewels.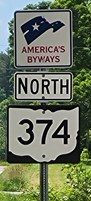 The Byway also passed historically significant sights. The scenery all along the Byway is  stunning in every season. Begin on State Route 374 at US 33 in Rockbridge.  State Route 374 was designed to connect the Hocking Hills State Park sites; Cantwell Cliffs, Rock House, Conkle's Hollow, Old Man's Cave, Cedar Falls and Ash Cave, from north to south.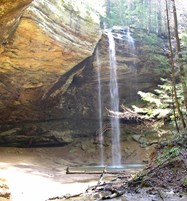 The Hocking State Forest Headquarters was the Hocking County Honor Camp in the 1930's to house prisoners who were not a flight risk.  These men planted trees, fought forest fires and helped take care of the parks. A guard went with them wherever they went. It was not necessarily economical but it gave prisoners time in the outdoors and an opportunity to learn new skills.
At mile 11.9 on the Byway is the Village of Mound Crossing.  The mound located in the backyard of the old farmhouse was built by the Hopewell Indians.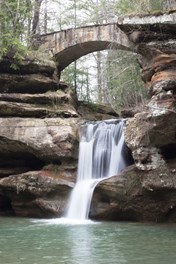 In 2020 the trails in all the Hocking Hills State Park sites were reconfigured to one-way for the safety of hikers and the delicate ecosystem.  Hocking Hills State Park is the only state park in Ohio with trail laws which prohibit anyone from going off-trail.  There's good reason to stay on-trail; your safety and the safety of the first responders who rescue hikers in distress.
All sites offer various length hiking trails.  Ash Cave and Conkle's Hollow have handicap accessible trails.  Along the trails hikers are treated to sparkling waterfalls, pre-historic caves and breathtaking scenic vistas.
Whether looking for a lovely country drive while visiting the Hocking Hills or a more active experience the Hocking Hills Scenic Byway will exceed your expectations.
Hocking Hills America's Byway Driving Tour (PDF)