Get'n Hitched in the Hocking Hills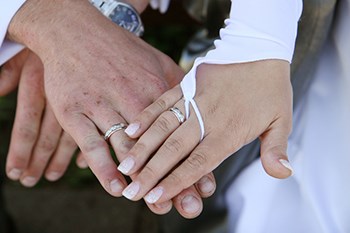 We understand that you want your wedding to be beautiful, meaningful and a reflection of you and your partner. Hocking Hills is one of the best places to get married in Ohio if a wedding venue surrounded by nature's beauty is on your dream list!
Our Wedding section offers all you need to know about Hocking Hills weddings, from basic information on getting married in Hocking County, to wedding locations (both inside and out), wedding planners, reception sites, flowers, hair studios, live music and more.
We look forward to hosting your wedding and hope you treasure your special day in one of the most beautiful places to get married in Ohio! Your wedding day is going to be special and remembered for the rest of your life. We would love for you to spend many wedding anniversaries here in the Hocking Hills, where your married life together started!
To request your FREE Wedding Planning Guide, call 1-800-HOCKING (462-5464).
Wedding Planning in the Hocking Hills