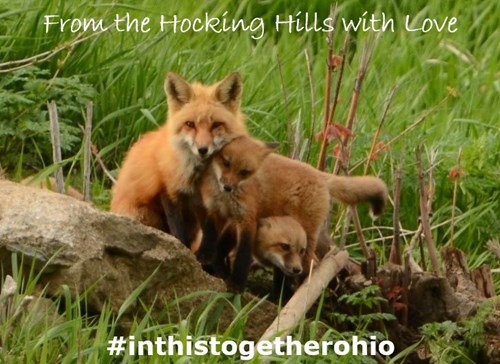 As of 6:00 p.m. Thursday July 23  mask or face coverings become mandatory in the State of Ohio. You may find yourself in a position where it is not possible to be 6 feet apart from someone outside your travel group. When this happens PLEASE cover your face. This is the responsible thing to do. Thank you.
There are many parks and outdoor adventures to keep everyone entertained throughout your visit. Below is a list of the many parks open for hiking, boating, fishing and relaxing in the fresh air. In addition to these parks there are many adventure outfitters open and ready to provide a safe and fun experience. Social distance naturally as you fly through the tree tops, climb a real rock wall, explore on horseback, drop a line, paddle down a lazy river, fine tune your putting skills or pet some critters here and here
From July 2 most of Hocking Hills State Park was opened with redesigned trails to facilitate social distancing. Our many, locally owned restaurants and taverns are also open for dine-in service and most are also offering carry-out, some offer limited delivery. Our shops and galleries are open with safe distancing.
Enjoy your visit, stay well and thank you for choosing to visit the Hocking Hills. Be sure to check out some of these gems:
Trails have been reconfigured and are one-way to accommodate social distancing. Please be familiar with the trail, the distance and difficulty of the trail before you begin hiking. Only medical emergencies are being allowed to turn around mid-trail. If you are not sure you can complete the trail as configured please choose an easier/shorter trail. Thank you.
Hocking Hills State Park: https://www.explorehockinghills.com/parks-trails/parks/hocking-hills-state-park/
Lake Logan State Park: http://parks.ohiodnr.gov/lakelogan
Clear Creek Metro Park: https://www.metroparks.net/parks-and-trails/clear-creek/
Hockhocking Adena Parkway: https://www.facebook.com/HockhockingAdenaBikeway/
Lake Hope State Park: http://parks.ohiodnr.gov/lakehope
Stroud Run State Park: https://www.stateparks.com/stroud_run_state_park_in_ohio.html
Tar Hollow State Park: http://parks.ohiodnr.gov/tarhollow
Wayne National Forest: https://www.fs.usda.gov/wayne
Zaleski State Forest: http://forestry.ohiodnr.gov/zaleski
If you are plan to cook please consider bringing your groceries. Our small community has a limited number of grocery stores so you may not be able to purchase supplies locally.
Please support our locally owned restaurants. Many are offering great carry-out menus and will very much appreciate your business.
Please observe the recommendation to wear face covering and social distancing when out in public areas where you may not be able to control your distance from others such as essential stores/businesses. 
View our attractions. Most are open and are looking forward to your visit. We recommend checking the latest information available regarding their opening schedule.
Finally, welcome to the Hocking Hills!  We hope you enjoy your visit.  Relax, refresh and stay well!
From our friends at John Glenn Astronomy Park:
Due to the COVID 19 virus these are new safety rules we have had to put in place.
- Masks will be mandatory at JGAP. No mask, no visit.
- Signs will be printed stating this.
- The parking reservation system will be reinstitated and cars will be capped at
30 for Friday & Saturday night only.
- The population of the Plaza will be capped at 10. (If you want a spot, arrive
early).
These practices will be in place until the crowds diminish sufficiently for safety.
Brad Hoehne, Director
John Glenn Astronomy Park
Friends of Hocking Hills State Park