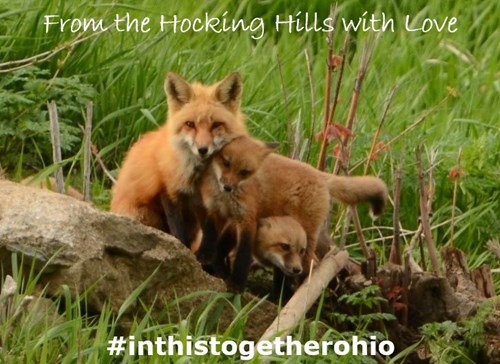 Our private campgrounds will be reopening as of May 21. Make your reservations now to enjoy a change of scenery, some fresh air and lots of campfire treats. S'mores anyone?
A message for our guests
We are delighted you have decided to visit the Hocking Hills.  We have some tips for you to make your stay pleasant during these challenging times.
At this time the Hocking Hills State Park is closed. This includes Ash Cave, Cantwell Cliffs, Cedar Falls, Conkle's Hollow, Old Man's Cave and Rock House.  All trails, the rock climbing and rappelling areas, fire tower, day-use bridle area, and horse camp at Hocking State Forest are currently closed as well.  However, there are many great parks in the Hocking Hills.  Take some time to explore these gems:
Lake Logan State Park: http://parks.ohiodnr.gov/lakelogan
Clear Creek Metro Park: https://www.metroparks.net/parks-and-trails/clear-creek/
Hockhocking Adena Parkway: https://www.facebook.com/HockhockingAdenaBikeway/
Lake Hope State Park: http://parks.ohiodnr.gov/lakehope
Tar Hollow State Park: http://parks.ohiodnr.gov/tarhollow
Wayne National Forest: https://www.fs.usda.gov/wayne
Zaleski State Forest: http://forestry.ohiodnr.gov/zaleski
If you are plan to cook please consider bringing your groceries. Our small community has a limited number of grocery stores so you may not be able to purchase supplies locally.
Please support our locally owned restaurants. Many are offering great carry-out menus and will very much appreciate your business.  Here's the list of those offering carry-out and limited delivery: 


Please observe the recommendation to wear face covering and social distancing when out in public areas where you may not be able to control your distance from others such as essential stores/businesses. 
Our attractions are beginning to reopen and we will update the list regularly. Here's what's available now: 
Horseback Riding:
Uncle Buck's Riding Stables: http://www.unclebucksstable.com/
Equestrian Ridge Farm: http://www.equestrianridge.com/untitled1.html
The Spotted Horse Ranch https://www.thespottedhorseranch.com/
Guided hikes:
High Rock Adventures: https://www.highrockadventures.com/
Fishing & Birdwatching:
Lake Logan State Park: http://parks.ohiodnr.gov/lakelogan
Butterfly Ridge Conservation Center (From May 14, 10:00 am) https://www.butterfly-ridge.com/ 
Shooting Range:
On Guard Defense: https://onguarddefense.com/
Gem Mine:
Hocking Hills KOA: https://www.hockinghillskoa.com/
Finally, welcome to the Hocking Hills!  We hope you enjoy your visit.  Relax, refresh and stay well!