Jump into Spring With These Awesome Activities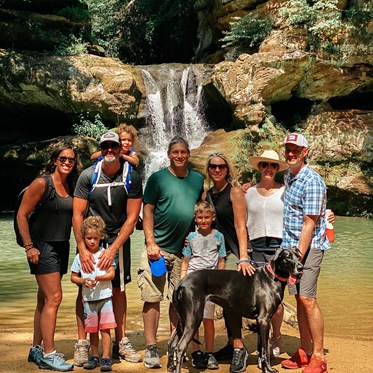 @andreakerzner
Looking for Activities for Spring 2023?
We got you!
Outdoor Activities: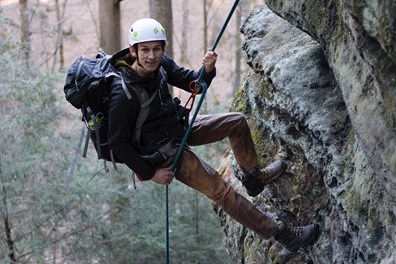 High Rock Adventures & Hocking Hills Ecotours 
An adventure and nature-eco tour company featuring on-site, fully guided natural Rock Climbing, Rappelling, Rock Challenge Tours, Ecotours-Edible & Medicinal Plant Tours. All tours include Professional guides, instruction, and all needed equipment. Please call for your reservation.  
10108 Opossum Hollow Rd., Rockbridge, OH 43149 -(740) 385-9886 
Hocking Hills Adventure Treks 
Rock Climbing and Rappelling Trek 
Edible Forest Trek - Hocking State Forest (1 to 2 hours) 
Parachute Rock Trek (4 hours) 
Little Rocky or Sheick Hollow Nature Preserve Trek (4 -5 hours) 
Grandma Gatewood Trek ~ Ash Cave to Old Man's Cave (one way / 6 miles, 4.5 to 5 hours) 
At-Your-Cabin Trek - Edible Forest or naturalist interpretation right where you're staying.  
Hocking Hills Area-(740) 777-2579 or book online at hockinghillsadventuretrek.com  
Uncle Buck's Riding Stable 
Scenic, guided horseback rides through Zaleski State Forest near Lake Hope State Park.  
9-5 PM 
73930 Buck Ln., New Marshfield, OH -(740) 664-2428 
Spotted Horse Ranch (possibly open if trails are dry) 
Guided Trail riding on over 500 acres and 35 miles of trail!  
Sunday 9-5, Tue-Sat 9-5 
17325 Deffenbaugh Rd., Laurelville, OH 43135 -(740) 332-7433 
Valley Zipline Tours 
We feature 11 zips on our site, including 3 monster zips of nearly 1000 ft each towering above the valley. We also have an exciting dual racing zip where you will race your friend to the finish line.  
8-7 PM 
3465 Duffy Rd. SE., Lancaster, OH 43130-(740) 654-3392 
Hocking Hills Canopy Tours 
Featuring 2 professionally guided, award-winning, exhilarating zipline tours; a world-famous SuperZip®; a one-of-a-kind zipline just for kids (DragonFly); breathtaking Off-Road Segway tours; and an awe-inspiring Rockbridge Encounter. 
9-7 PM  
10714 Jackson St., Rockbridge, OH 43149 -(740) 385-9477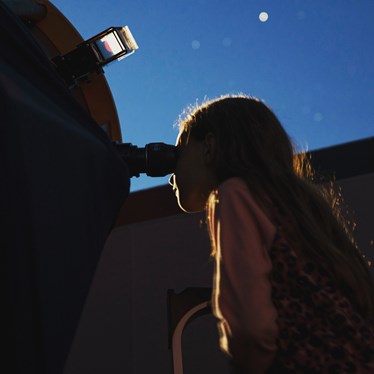 John Glenn Astronomy Park  
Open 24 hours, 7 days a week for star gazing, sun dial or programs on the weekends. Please reserve your spot if you plan to attend a program.  https://jgap.info/ 
20531 OH-664, Logan, OH 43138 
Logan Pickleball Courts 
The Logan Pickleball Courts are adjacent to the City Pool and are open to the public. For more information email chieftanpb@gmail.com or check out their page at facebook.com/pickleballlogan
Mulbury St. & Keynes Dr.N
NevilleBillie Adventure Park (ATV and paintball) 
Rope Course with over 64 challenge elements; Paintball; Moonshiner's Mystery Shack; Polaris side-by-side rentals on our 16 miles of private wooded trails on over 80 acres.  
10-6 PM 
15155 Sauerkraut Rd., Logan, OH 43138- (740) 380-1775 
Adventure Golf at Rempel's Grove- Open March 25th 
18-hole mini golf course includes a waterfall, tricky shots, and a challenging mini golf adventure.  
12793 State Route 664 S., Logan, OH 43138- (740) 385-0400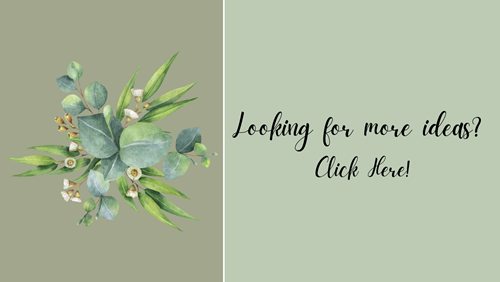 Indoor Activities
Hocking Hills Escape Games 
Hocking Hills Escape Games is the place for family-friendly escape rooms and mobile scavenger hunts! The Great Heist Escape Room is an interactive adventure game where you rely on teamwork and ingenuity to solve difficult puzzles, locate objects, and use clues to crack the safe and make off with the money. Reservations needed and available Thursday through Sunday.  
53 S. Spring St., Logan- (740 
Movies 10 & Fun Barn  
10 screen indoor movie theater with a video and arcade area. 
Mon-Fri 6:00-10:00, Sat-Sun 12:00-10:00 
14333 U.S. Hwy 33, Nelsonville–(740) 753-3400  
Bury the Axe-Hungry Buffalo 
Try the finest indoor axe throwing around! 
Mon-Thur 4-8, Fri & Sat 11-9, Sun 11-8 (Reservations preferred) 
12762 Grey St., Logan-(740) 380-0094 
Hocking Hills Paint Parties 
Reserve a private session at our studio, book a traveling party, or stop in and splat paint in our splatter cave! We also have take-home DIY kits for pickup or local delivery. Please call for your reservation.  
57 W Hunter St., Logan- (740) 270-4379 
AHA! A Hands-on Adventure Children's Museum  A Children's Museum offers an interactive learning experience for children from six months to eight years old.  
Tue.-Sat. 10-4 
1708 River Valley Circle South, Lancaster (740) 653-1010 
Nerf Battle Zone 
Indoor nerf gun arena. Backlighted and decorated with neon paint and objects to hide behind. We offer a variety of nerf guns and 3,000 nerf darts in the battle zone.  
57 W. Hunter St., Logan- (740) 270-4379 
Hocking Hills Candleworks (with appointment) 
Mix & match fragrances to create your personally scented, one-of-a-kind pure soy candle in about 1 hour.  
29205 Ilesboro Rd., Logan- (740) 385-9537 
Ellingers Indoor/ Outdoor Riding Arena 
Guided horseback, riding area, and Indoor kids' area. Please call for an appointment.  
27293 Risch Rd., Rockbridge- (740) 385-0810 
Nature Center at Hocking College (as well as Bike Rental, disc golf, and Robbin's Crossing) 
Our Hands-on, interactive walk-through displays are a captivating experience for the youngest learner to environmental science professionals. 
You'll learn about Ohio wildlife, geology, plant life, and more. You'll interact with our resident fish, reptiles, and mammals and can learn while taking a stroll through our garden of native plants. 
Sat & Sun 10:00-4:00 
3301 Hocking Pkwy., Nelsonville-(740) 753-7219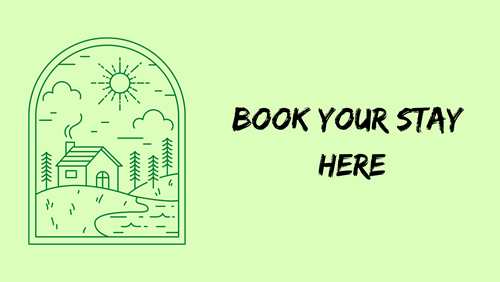 History & Art Buffs 
The Bowen House  
A community center for art and education, featuring art exhibits, concerts, literary events, workshops, and children's programming. Please check our website www.bowenhouse.org.  
We offer a new exhibit each month. Additionally, we have theatrical, musical, and other art events. 
Open Wed. - Sat., 2-5 p.m. 
196 N. Market Street, Logan– (740) 385-0344  
Hocking Hills Moonshine Tours  
Hocking County's only moonshine distillery. Come in and take our free tour to watch moonshine being made and learn the history of prohibition. You can also sample our selections for a small fee before deciding to buy. 
Mon-Sat 11-8, Closed Sunday  
55 Spring St., Logan-(740) 603-4483  
Decorative Arts Center of Ohio  
A not-for-profit museum whose mission is to foster knowledge and appreciation of the decorative arts; celebrate the architecture and heritage of the Reese-Peters House; and enhance the vitality and integrity of historic Lancaster. The Center provides exhibitions, public programs, art classes and workshops for all ages. 
Wednesday – Friday 11 a.m. to 4 p.m., Saturday & Sunday 11 to 4 p.m. 
145 E. Main St., Lancaster – (740) 681-1423  
Ohio Glass Museum & Glass Blowing Studio  
Glass Museum tours include the main gallery with changing exhibitions in Sept. and March. Our movie covers the history of glass making in Fairfield Co. and Lancaster, OH. The History Room has exhibits of glass making by primitive man to current day. Demos in Glass Blowing Studio with expert glass blower: classes, individual instruction, and groups. Gift shop and hand-blown glass items. 
CLOSED MONDAYS Open March – October Tues.-Sun.  12-4pm daily.  
124-126 W. Main ST.  Lancaster- (740) 687-0101    
Jack Pine Studio 
Enjoy watching skilled glass blowing artist make beautiful glass art and shop in our gallery for a variety of glass art such as pumpkins and hummingbird feeders, glow in the dark eggs, vases, and other items.  
Mon-Sat 10-5, Sun 11-4 
21397 State Route 180, Laurelville-(740) 332-2223 
Hocking County Historical Society & Museum  
Experience our historical complex featuring the Native American presence in Hocking County, the Lutz Steam Car, 1881 furnished Victorian home, military display, antique farm implements and the railway telegraph office. Research library available. Handicap accessible. Admission is free- donations are encouraged. Visit our website for more information. Opened Sat & Sun 1PM-4PM-Winter hours by appointment. 
 64 N. Culver St.   Logan, Ohio –(740) 385-6026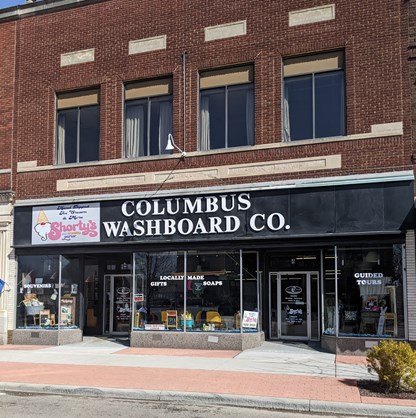 Columbus Washboard Company  
The only washboard manufacture in the U.S.A We use many of the original presses and machinery to make our washboards. See an American manufacturing factory in action on one of our guided tours. 
Guided tours for groups 4 or more at 11:00, 1:00 or 3:00 
Visit the store 10-4 PM (gift shop is open 10-8PM) 
4 E Main St., Logan-(740) 380-3828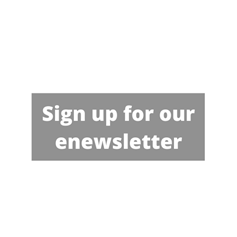 Posted: March 27, 2023