Holiday Treasure Hunt
Enjoy the beauty of Hocking Hills and the magic of holiday cheer while shopping at locally-owned shops in the region!  Embark on the Annual Holiday Treasure Hunt while buying that special gift by collecting stamps for any six of the 27 participating shops. 
2022 Holiday Treasure Hunt Details
November 1 - December 12, 2022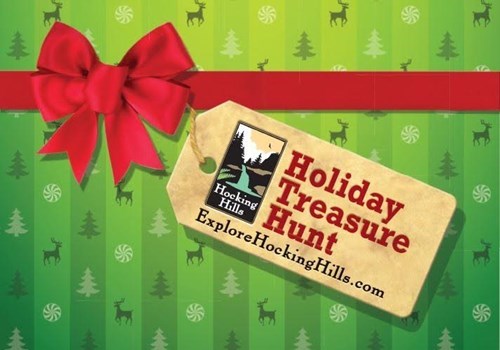 Submit your treasure map and stamps and you will be entered to win prizes offered  by the shops, including the grand prize: a weekend getaway in the Hocking Hills for four people. 
Entries must be received at the Hocking Hills Regional Welcome Center in Logan (13178 State Route 664 South, Logan, OH 43138) by 5 p.m. on Monday, December 12 to be eligible to win.
Grand Prize Package
2 nights stay in a cabin for 4
Canopy Tours for 4
Canoe Tours for 4
Adventure Golf for 4
Candle Making for 4
Lunch for 4
Dinner for 4
   
 


2022 Participating Stores 

 

26776 US Hwy. 33

Rockbridge

740-380-9020

Shop Gift Certificate - $25 value 
Daily 10-5

 

Christmas Treasures

29205 Ilesboro Rd.

Logan

740-385-9537

Ornament & $50 Shop Gift Certificate - $60 value 
Mon-Sat 10-4; closed Sun 

 

Hawk's Nest
12906 State Route 664 South
Logan
740-385-3515
Shop Gift Certificate - $25 value
Mon-Fri 10-7, Sat 10-6, Sun 12-5

 
Gifts That Give Back
66 E. Main St.
Logan
740-707-3150
Shop Gift Certificate - $25 value
Mon-Sat 9-7, Sat 10-5 closed Sun

 

Family Tree Florist
25 Public Square
Nelsonville
740-753-9502
Shop Gift Certificate - $30 value
Mon-Fri 9 to 6, Sat 9-2, Closed Sun

 

Funkocity
47 W. Main St.
Logan
740-215-2203
Shop Gift Certificate - $25 value
Mon-Sat 10-6

 

Flowers by Darlene
98 W Main St.
Logan
740-385-6311
Shop Gift Certificate - $50 value
Mon-Fri 9-4; Sat 9-noon

 

Spring Street Antique Mall

26782 US Hwy. 33
Rockbridge
740-385-1816
Shop Gift Certificate - $50 value
Daily 10-6

 

Grandma Faye's Grocery & Gifts

20507 SR 664 South
Logan
740-385-9466
$100 Gift Certificate for Gift Shop
Daily 8-8

 

Tacie's Sweet Treats
96 E. Main St. 
Logan
740-412-4074
Shop Gift Card - $25 value
Wed-Fri 6:30-2; Sat 8-Noon 

 

Hocking Hills Candle Works

29205 Ilesboro Rd.
Logan
740-385-9537
Box of 4 Hocking Hills Candles Works - $45 value
Mon-Sat 10–4, Closed Sunday

 

Jack Pine Studio & Gifts

21397 SR 180
Laurelville
740-332-2223
Medium Pumpkin of the year - $88 value
Mon-Thu 10-5; Fri & Sat 10-6; Sun 11-4

 

Lanie's Dutch Country Store
26806 US Hwy. 33 
Rockbridge
740-380-3663
Shop Gift Certificate - $50 value
Tue-Thu 10-5; Fri & Sat 10-6 closed Sun & Mon

 

Logan Antique Mall

12795 SR 664 South
Logan
740-385-2061
Shop Gift Certificate- $25 value
Mon-Sat 10-6; Sun 11-6

 

Midwest Glassware Outlet
12811 SR 664 South
Logan
740-380-9400
Shop Gift Certificate - $50 value

Mon-Sat 10 5, Sun 11-5

 

 Fox's Book Adventure
12793 St. Rt. 664 South
Logan
740-385-0400
Shop Gift Certificate - $25 value
Mon, Thu, Fri & Sat 11-8; Sun 12-7

 

Mae-lynne Maker's Studio
52 W Washington St.
Nelsonville
740-753-3343
2 Jelly Rolls - $76 value
Tue-Sat 9-4:30

 

133 N Columbus St.
Lancaster
614-404-9984
Shop Gift Certificate - $25 value
Tue-Sat 11-5; closed Sun & Mon

 

Rocky Outdoor Gear Store

45 E Canal St.
Nelsonville
740-753-3130
Store Gift Certificate - $250 value 
Mon-Sat 9-8; Sun 10-6

 

Hocking Hills Crafts & More

12801 SR 664 South

Logan

740-385-9039

Shop Gift Certificate - $25 value
Mon-Sat 10-7; Sun 11-6

 

R T R Farms

US Hwy 33 at SR 374; Hocking Hills Flea Market

Rockbridge
 740-385-0055
Shop Gift Certificate - $25 value
Sat & Sun 10-5

 

Saving Hardware
95 E Main St.
Logan
740-385-7514
Store Gift Certificate - $50 value
Mon - Fri, 8-5:30; Sat, 8-3; closed Sun

 

Hocking Hills Coffee Emporium
13984 State Route 664 S
Logan
740-270-2697
2 Night Stay & Store Gift Certificate - $375 Value
Sun 8-4, Mon-Thur 7:30-5, Fri & Sat 7:30-6, Closed Wed

 

Homegrown on Main

65 W Main St.
Logan 
740-216-4435
Shop Gift Certificate - $50 value 
Mon-Sat 10-5; Closed on Sun

 

Vintage en Vogue
45 W Main St.
Logan
740-385-2714
Shop Gift Certificate - $25 value
Mon-Sat 10-5; closed Sun

 

Wind Chime Shop

29205 Ilesboro Rd.

Logan
740-385-9537
Mini-chime & Shop Gift Certificate - $60 value
Mon-Sat 10–4, Closed Sun
 

Weaver's Market & Deli 

12803 SR 664 S
Logan
740-380-6901
Shop Gift Certificate - $50 value
Mon-Sat 9-5; closed Sun