Six Hocking Hills Gift Ideas You'd Want in Your Stocking
Give your loved ones the gift of Hocking Hills this year with these adventure-filled ideas from gift certificates to outdoor gear and everything in between.

The Gift of Experiences 
Have too many THINGS filling up your gift baskets? Get active and buy a voucher or reserve a spot for one of the many adventures in the park to share an experience together! Learn more about things to do in Hocking here. Plenty are offered at multiple businesses, including; 

A Cabin Stay or Certificate 
Do you know someone that just needs to getaway? Reserve a short weekend stay at one of our multiple cabins for one or two (or more).  Gift certificates are also available at some locations to help your loved ones pay for their trip. 
Multiple cabins in the hills offer certificates. Filter through the many options at explorehockinghills.com/lodging to find the perfect escape! 

Gear for the Outdoors 
Hocking Hills has a variety of stores in the area with top-of-the-line outdoor gear. One of the largest stores  dedicated to the outdoors is RockyBoots with a huge floor (and restaurant) and plethora of choices! Check out more local stores here. 

Get Creative 
Hocking Hills Tourism Association's new additional location in downtown Logan -- Homegrown on Main -- has a specialty store full of hand-made local artwork and creations. The store also hosts multiple artistic workshops, including basket weaving and painting. The perfect place to find a one-of-a-kind original or a gift certificate to create their own.  

A Little Piece of The Hills
Know someone who has a love for the hills? Gift them a gift that they can love just as much until their next adventure! Hocking Hills merchandise is available at multiple locations throughout the area. One spot includes Hawk's Nest, a local printing company that creates all types of wear and items from mugs, key-chains and more! Check out more local stores here.  Merchandise is also available at both of Hocking Hill's Visitors Center and Old Man's Cave Visitors Center.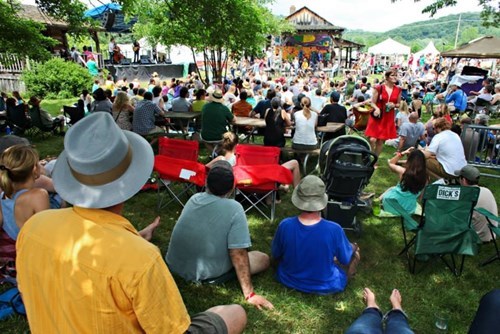 Something to Look Forward Too 
Hocking Hills plays hosts to a variety of events featuring low cost tickets or reservations from festivals, music and more! Just some events and tickets that would make great stocking stuffers would include the multiple shows held at Stuart's Opera House, The Annual Hippie Fest and Hocking's Comfort Food Cruise. You can see more of our upcoming events at explorehockinghills.com/events. 
Posted: December 08, 2017