8 tips to improve your Instagram pictures in Hocking Hills
Capture all the things to do in Hocking Hills, and get all the likes

Taking pictures of beautiful waterfalls and awe-inspiring caves has to rank among our favorite things to do in Hocking Hills. And though the annual photography competition Shoot the Hills is taking a break this year, it is coming back to celebrate its 15th anniversary in 2017. (Mark your calendars for May 5-7, 2017.)

We love the shots from the professional photographers who come to the Hills, but we also know a lot of you use the camera you carry with you everywhere: your phone.

The rise of Instagram has made everyone an amateur photographer. We love combing through the tens of thousands of shots under the #hockinghills tag. And don't forget, your snap could make our 2017 Hocking Hills Calendar if you use the #hockinghillscalendar hashtag on Instagram. If you're included, you win a free copy to see your work in print.

While Instagram is great for beginners and pros alike, here are some tips to take your shots up a notch when you're enjoying Hocking Hills.
1. Don't shoot in Instagram.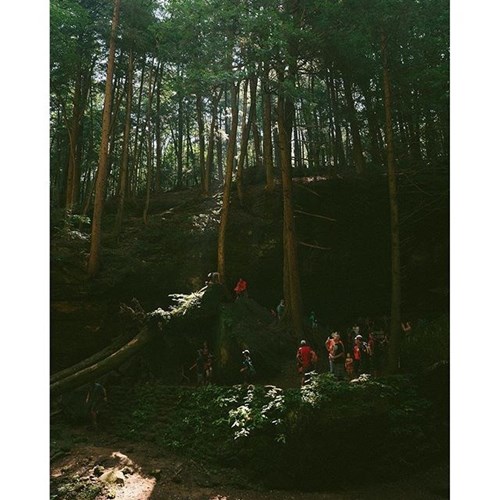 Photo by @andrewethomp via Instagram

Wait … this is a list of tips for Instagram, and the first thing you're telling me to do is not use Instagram? Yep.

For starters, Instagram defaults to a square frame. That's great in your feed, but you might want to get more vertical with your shot to capture that waterfall or more horizontal to fully capture those rolling hills.

But the main reason to shoot in your phone's camera app and then upload to Instagram? You can take more shots with different settings and angles and choose the best one later.
2. Don't zoom. Crop.

If you're using your phone's app instead of Instagram, you may be tempted to also use the digital zoom. But think before you pinch and zoom in.

Digital zooming is still limited to your phone's resolution, so zooming all the way in will make your photos grainy. But if you upload your photo later, you can then zoom in to the best parts, plus you'll have more background action to move around with.
3. Get close.

It's an old photographer's adage: Zoom with your feet. The first time you enter that clearing and see one of our stunning waterfalls, you'll be tempted to take out your phone and snap immediately. But take a second to take it in. And then walk closer for that perfect shot.

Of course, there's one very important rule to follow when you do this: Stay on the marked trails! Going off-trail can be dangerous, and no picture is worth the risk. We want you to come back for more great shots.
4. Use the light.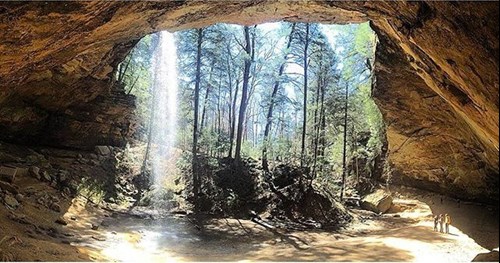 Photo by @pcook8m via Instagram

You can't always predict the weather, but you can use it to your advantage. A beautiful sunny day is the best in Hocking Hills, but did you know an overcast day can be even better for photos?

Cloudy days mean less direct sunlight, so you won't have to deal with harsh shadows or bright spots ruining your otherwise perfect shot.

Another lighting tip: You can get some of the most beautiful shots in the morning light. There's a great reason to wake up and get out of your cabin early and get shooting.
5. Don't be afraid to get a little dirty.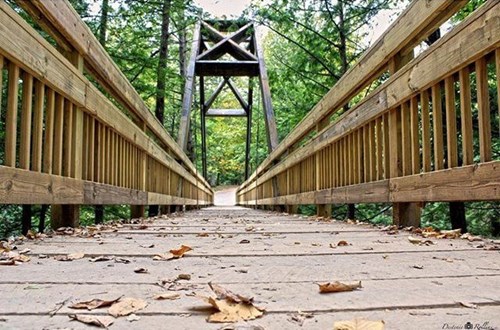 Photo by @dessirollins via Instagram

You can get some interesting perspectives in your photo by, well, trying another perspective.

Remember, you don't have to shoot everything at your eye level. Try crouching, kneeling or even carefully getting down on your belly. You may find the angle for the perfect shot was just a few feet beneath you.
6. Keep your lens clean.

Speaking of getting dirty, don't forget that your lens does too.

As phone camera lenses get smaller and more powerful, it's easy to not realize you might have a smudge or some dirt on your lens, which will reduce the quality of all the pics you take. The fog from your breath and a wipe of dry cloth will do the trick in a pinch, but it's also a great idea to carry a small pre-packaged lens wipe for the occasion.
7. Stay still.

Though it may not seem like it in the fraction of the second you hear the snap, your phone actually might be moving a little. That perfect picture? Now it's a little blurry.

Once you've got your shot lined up to your liking, take a short breath and hold for a second. Then press the button to take the picture as lightly as you can. Even a quick tap can move your phone a tiny bit.
8. Don't just rely on filters.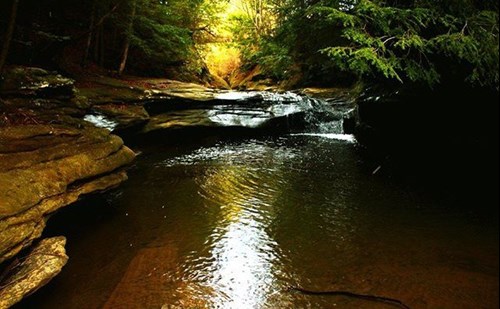 Photo by @semontz via Instagram

Instagram's pre-set filters can dramatically alter the look of your photo, and they're definitely fun to play around with. Just don't overdo it.

Some of the more dramatic filters may remove some of the little details that captured the moment of your trip. As an alternative, try manually editing the look of the photo with Instagram's tools. (Brightness and contrast are a good place to start.)

Just make sure you step in the shade of a tree so you can better see the screen of your phone before you edit. Or, better yet, wait until you're back at the cabin to relive the day.
Ready to try out your new skills in Hocking Hills?

Now that you've got the knowledge to take better Instagram pics, you've got to test out these new skills in the Hills. Find the perfect location for your photo getaway with our Availability Search Tool, which helps you find the ideal place to stay specific to your needs. Or call our Welcome Center at 740-385-9706 or 1-800-HOCKING (462-5464) to speak to one of our knowledgeable travel counselors.
Posted: April 24, 2016