The Planner's Guide to Hocking Hills
Here are some tips on how to make your next trip easy and breezy in the Hocking Hills. 
Plan Ahead
Figure out what hikes are on your "must-see" list. This can help you plan your days more easily when you have an idea of where you'd like to be. Going midweek, early morning, or evening is the best way to experience the beauty of the Hocking Hills without major crowds. Feel free to give the Logan Welcome Center a call if you have a question while planning your trip! 

Stop by the Welcome Center
When you first arrive to the Hocking Hills stop by the Welcome Center! The Welcome Center is staffed by friendly and helpful volunteers ready to help you find your next adventure. You can learn about all of the awesome businesses and activities in the area. Our volunteers can help you find your way, recommend restaurants, and answer any questions you have. Plus, the Welcome Center has public restrooms and free maps!
Go During the Week
Going to Old Man's Cave at 2 pm on a Saturday during the middle of October is probably going to be a bit chaotic. However, if you plan a midweek trip anytime of the year you will have more options and less crowds! If you have the ability to go during the week-it is the best way to have a relaxing trip.

Stay Overnight
There are so many incredible lodging options in the Hocking Hills. Plan to stay so you can enjoy all the Hocking Hills has to offer. While making a day trip is awesome, staying a few days allows you to see and do more!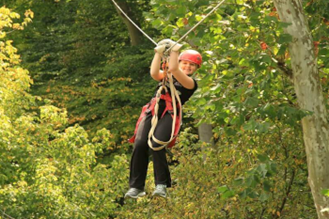 Check out the Adventure Activities and Reserve Your Spot Ahead
One of the awesome things about the Hocking Hills is that there are so many exciting adventure and relaxation opportunities! Go horseback riding, zip-lining, or on a personal hike, then finish the day with a spa treatment (or two!).
Posted: August 03, 2021