Simple Living: Experience the Hocking life among the Trees
By – Beverly Donahey-Menrath, owner of The Tree House In Hocking Hills cabin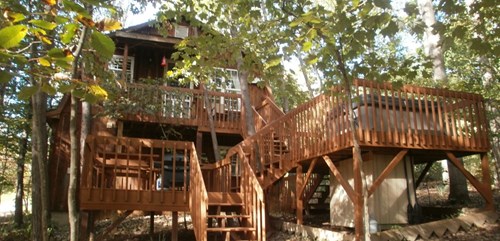 Hi! My Name is Bev and my husband's name is Mike. We want to share with you how we came to live in and enjoy the Hocking Hills area, and how The Tree House In Hocking Hills cabin came to be.

First of all, my family moved to the Hocking Hills when I was 4 years old. I grew up on a farm.  When the chores were done, my sister and I would ride like the wind on Dusty and Queen. Yes, you guessed correctly, our horse and pony.  Also, I liked to hike the hills with my dog, Laddie, exploring the woods. Once my parents sent my sister and me out to hunt mushrooms, instead we came back with salamanders to take to the science lab at school.

My husband, Mike was a different story. As an adult he migrated to the Hocking Hills from Cincinnati 30 years ago.  Good thing he did or we would have never met. Mike was a third generation mason, a brick layer, who built many fireplaces in the cabins in Hocking Hills. As a child, he loved science and exploring.

Mike's family had another connection to the Hocking Hills. In l972, his dad built the gorgeous fireplace that was in the Hocking Hills Dining Lodge before it burnt in 2016.

Together, Mike and I love to hike, canoe, and zip line in the Hocking Hills. We have hiked every state park several times, plus other areas. Yes, even though we are seniors, we still like to explore.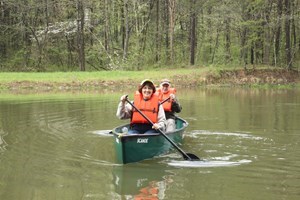 Oh, by the way, my husband built The Tree House In Hocking Hills cabin and lived there for a while.  April – October people who book the cabin can canoe on the private Tree House Lake. The canoe and life jackets are provided. Also, catch and release fishing is allowed.  

 The cabin is unique to the area with 3 decks and 15 steps to get to the main living area. The first deck has the hot tub, second deck has a propane grill and picnic table, and the third deck is the front porch 15 steps up. Come and enjoy the California King bed with feather down in a cozy living area. There is a flat screen TV/satellite, electric fireplace to set the mood, and fully equipped kitchen. The 4 person hot tub overlooking the lake will help you relax after hiking in the beautiful Hocking Hills or sit around the fire ring and roast marshmallows while sitting on the love seat.

There is only 1 cabin on the 5 ½ acre property.  The cabin is secluded, peaceful, and relaxing just 5 minutes from Old Man's Cave, Cedar Falls, and other attractions.

 
Posted: January 01, 0001