5 reasons Hocking Hills is perfect for Spring Break adventures
.. and what you need to know to plan your trip perfectly.
Hocking Hills retreats promise adventure, adrenaline or stress alleviation
Winter's on its way out the door, again, and gratitude for the onset of better weather is never at a higher point. But Spring Break isn't just for co-eds jet-setting on Mom and Dad's dime. Everyone deserves some respite from the drudgery of the cold, gray months — and no one more than you.
The Hocking Hills region of Southeastern Ohio can serve up some of the finest Spring Break experiences and adventures available and for a fraction of the time or cost required to get to a southern beach.
Hocking Hills retreats can be the perfect way to reset your nerves and bolster your constitution and, if you've not considered the area's many attractions, you owe it to yourself to experience one of the most beautiful and fascinating regions in the country.

via tagscott78 on Instagram
Find your own food!
Spring is when the Hocking Hills emerge from the chilly grandeur of frozen waterfalls and snow-framed trails to a vernal paradise. Lilies and other wildflowers thrust themselves up and out of the snow. When those first truly warm days finally appear, the area seems ready to greet them, with trees in full flower and meadows bursting with lush greenery.
In addition, spring sees the emergence of fun forage foods, and there's nothing more satisfying than garnishing your cabin-side cookout with fresh food found nearby. Whether ramps (delicious garlic-like wild onions) or the famed wild morel mushrooms. (Also popular locally are pawpaws, a custard-like banana-and-mango-tasting fruit, which tends to ripen in fall.)
Not sure what you're looking at in the woods? With the swelling popularity of natural foods and foraging in general, there are a great many online resources that will help you identify your forage safely.  Remember, "if it ain't hollow, don't swallow" is a mnemonic for morel mushrooms — the dangerous "false morel" has fibrous, the cottony material inside, whereas a true morel is completely hollow. (And, if you're not sure, DON'T EAT IT!) There are a great many other delicious plants to be found in the area, too— only your imagination will limit your picnic!
If you're new to the deliciousness of botany, take a tour with High Rock Adventures to learn about edible plants and how to find them in the area!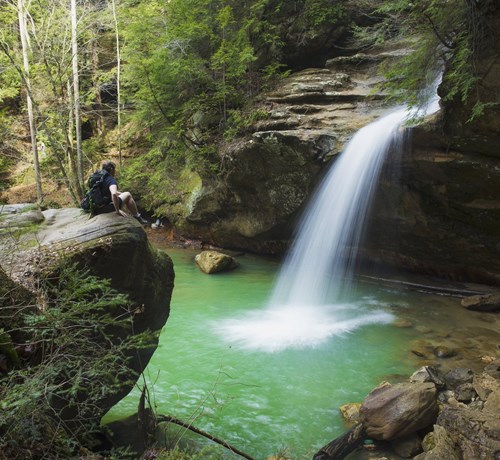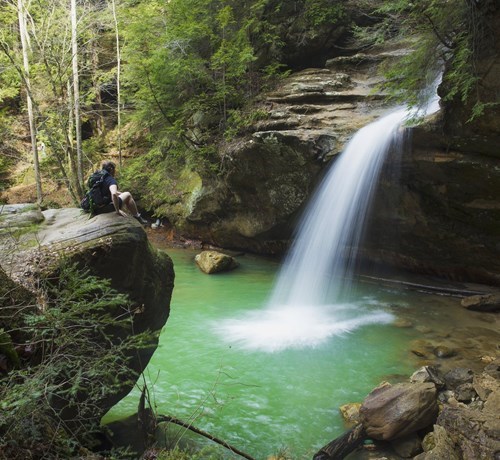 via  AaronRigsbyOSC on Twitter
Better than crowded beaches
 Spring Break may evoke daydreams of beaches, but there are plenty of stunning natural wonders, from waterways to waterfalls to caves, to explore in the Hocking Hills region, too! Clear Creek Metro Park or Boch Hollow are some of the most underrated parks in the area.
Similarly, the Hocking River boasts some of the very best smallmouth bass fishing in the state. While it can be a tricky river to fish in the spring, due to the snowmelt runoff that floods it that time of year, if you time it right and fish it just before the smallmouth spawn, you'll be in for some of the best fishing you've ever experienced. You'll be amazed that you're in Ohio while you're doing it.
If you're more into waterfalls and caves, check out our guide to recess caves, waterfalls, cliffs, and more. There's also an opportunity for a variety of adventures from zip lining, rock climbing to art workshops.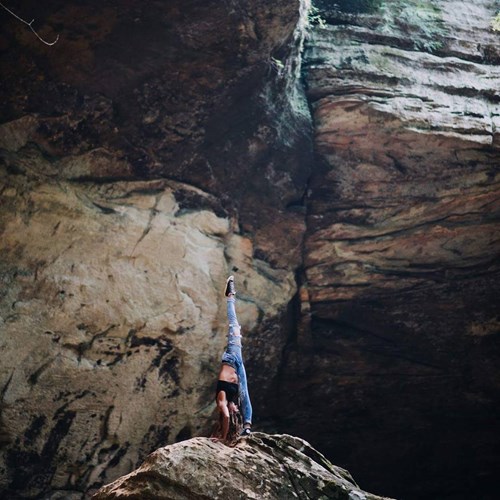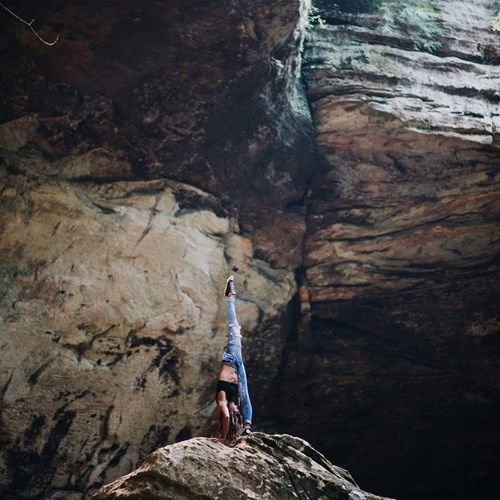 via novarosephotography on Instagram
Whatever you like to do, it's better in the woods!
All the things you already like to do are better when you do them in the Hocking Hills. Into yoga? Wine? How about both?
There are also plenty of opportunities to practice yoga surrounded by the beautiful environs of the area. Whether you roll out your own mat where you are or you prefer to have the company of a class setting, you can discover a variety of classes on our website: explorehockinghills.com/events.
Does your motorcycle handle your stress relief needs? Give your ride a boost on the incredible winding roads and majestic vistas available to riders exploring the Hills. Relax with another like-minded folk at nearby restaurants, pubs, and diners.
Even if it's just sitting on your behind and reading a book, being immersed in the clear air and surrounded by the tall trees of the Hocking Hills makes getting a cabin here worth every penny.

via chaletshh on Instagram
Drink locally
While Spring Break is often associated with crowds getting hammered on Beer Light, the Hocking Hills allows you more … adult drinking options, with many great spirits and libations, produced only a few miles from your cabin.
Grab some locally brewed beer at Brewery 33. The bar, right off of 664, has a schedule of events and food trucks to get the break-vibe flowing. And just across St. Rt. 33 is Hocking Hills Winery, home of delicious drinks made right in Hocking Hills. The winery also features regular live music and delicious treats (make sure to try their wine slushy)!
For more seasoned taste-testers, Hocking Hills Moonshine in Logan is an absolute must. The owners create the drink on site. You can learn how it's made during a tour and sample some of their drinks, including the most popular Buckeye Thunder.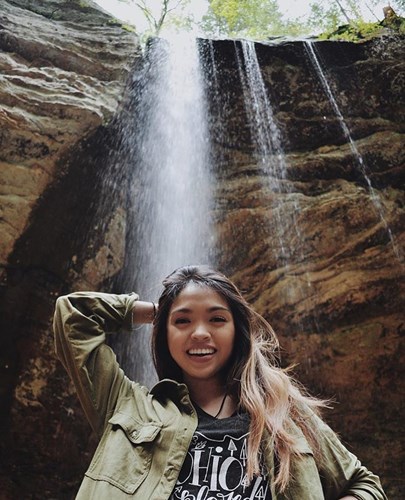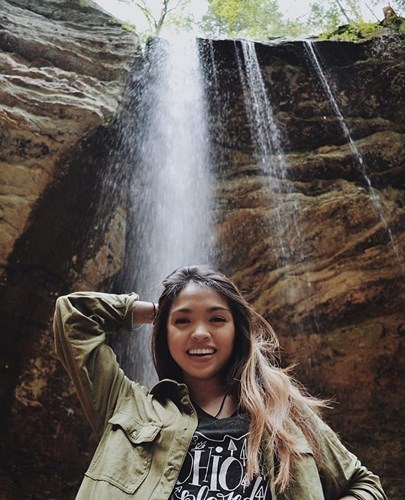 via OhioExplored on Instagram
Still paying for your last Spring Break?
Between airfare, premium rates at hotels, and encountering every trick in the book to bilk tourists out of their hard-earned dollars, Spring Break can be expensive — but it doesn't have to be.
Rates range greatly in price, but cabins decked out with kitchens, fireplaces or pits, and hot tubs (if found early) may feature a Spring Break Special or discount. Many have extra beds or even lofts — after all, what is Spring Break without all your buds or family to help split the tab? 
Meals throughout the area are reasonably priced. It's easy to pinch a few pennies by buying local food or produce and preparing yourself delicious meals in the comfort of your own well-appointed cabin kitchen.
Hikes are plentiful and free, as is access to the parks.  If you want to spend a few dollars more on activities, there's a lifetime worth of outdoor activities and adventures for adrenaline junkies waiting for you!
Day-trippers also frequent the area. Starting the day early on the trails, ending it with a delicious meal at one of the many restaurants in the area ... and a nice cool drink.
 So, what are you waiting for? Let's get planning!
Where to Stay: Use our "Places to Stay" page and the availability filter to find the perfect accommodations for you and your crew. The filter searches by date and amenities.
What to Do: Break free and cure yourself of cabin fever with outdoor activities in Hocking Hills. From horseback riding to canoeing, you can find it all on our "Things to do" page. Want something unique? Visit our calendar of events for local happenings, live music, festivals, farmers markets and more!
Places to See: Learn more about trails in the area and their trails, difficulty level, length and if they are pet-friendly including Old Man's Cave, Cedar Falls and more at ExploreHockingHills.com/state-parks/
Where to Eat: A good burger, soup, Mexican, fine dining … Hocking Hills has it. Filter through the variety of eating options on our restaurant page.
Quick Tips:
-              If you plan to stay overnight, make reservations as soon as you can.
-              Week-day trips and stays are typically more affordable.
-              Hit the trails early in the morning or an hour or two before dusk (make sure you're done before the sun goes down) to avoid crowds on some of our more popular trails.
-              Check out our Hot Deals page for discounts and last-minute specials.
-              You can check our State Parks page to see the difficulty level of each trial and if they are pet-friendly.
-              Bring clothes you don't mind being dirty and shoes with good traction. A light jacket with a hood is also a good idea, as well as extra socks,  and snacks and water for the trails. Weather tends to range in Hocking Hills during the spring. It can be 70 during the day and 40 degrees at night. Sunny for most of the day, but a downfall in the morning or late afternoon. So, mud is certainly a possibility… as are gorgeous waterfalls!
-              ALWAYS stay on the trail and keep your pup on a leash (poop bags on hand). It's for your own safety … seriously.
-              Check out the events calendar for a range of activities and events that apply to a variety of interests and demographics for unique things to do in the area.
Posted: March 08, 2018