Hocking Hills Explorers Shared Their Craziest Travel Stories
These stores have everything -- bears, car wrecks, galloping deer, hitchhiking ... oh my!
The love of traveling is bound to lead you to new experiences, sites, and adventures, including a few exciting challenges, along the way, Either way, you come back with a story to tell! We know Hocking Hills' visitors have a wanderlust and love of travel that has brought them to destinations all over, not just Hocking Hills... even if they keep coming back for more! 
With a shared passion for storytelling and adventure, we asked Hocking Hills' followers and explorers to share their craziest travel transportation story. Boy, did they deliver.  Of course, we wouldn't be doing our due-diligence if we didn't mention -- while some of these stories are entertaining (and the lucky travelers are indeed, lucky), we highly advise responsible traveling; staying safe, following signs/directions and remaining on the trail. (a.k.a we love our fellow travelers and would like to see them again!) 
Share your story on social media with the tag @MyHockingHills or #MyHockingHills (some entries have been edited for brevity and clarity). To get in on the action, plan your next adventure at ExploreHockingHills.com.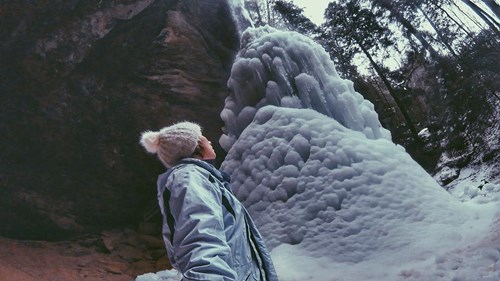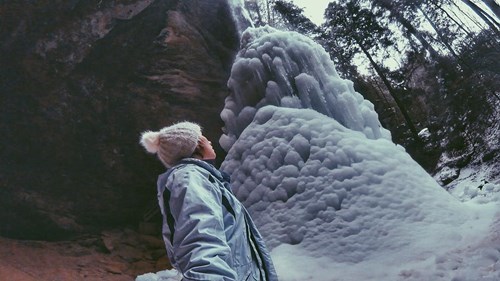 Credit: @ChristyNichole
"Ex-husband and I traveled through a tornado to get to a ZZ Top concert at Polaris Amphitheater. Very scary but a great concert!!!!"
"Perhaps 1972. Went hitch-hiking toward Texas with a friend. The driver stopped in El Paso. He wanted to buy weed in Juarez, Mexico. We did. Upon re-entering into the U.S. I saw a sign that said dispose of all illegal products now or face incarceration. Guess who was holding the weed? Anyway, I stuffed it in my pants and handed the guard my i.d. and tried to look like a traveler. Sunday night, guess he was tired."

"I took a Greyhound bus from downtown Cincinnati to Fairbanks, Alaska by myself when I was 16 years old. That was a very long week. 😀😀"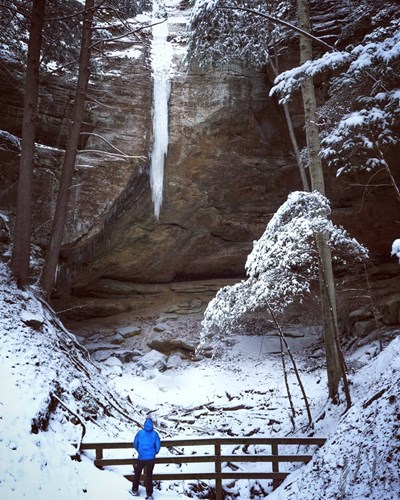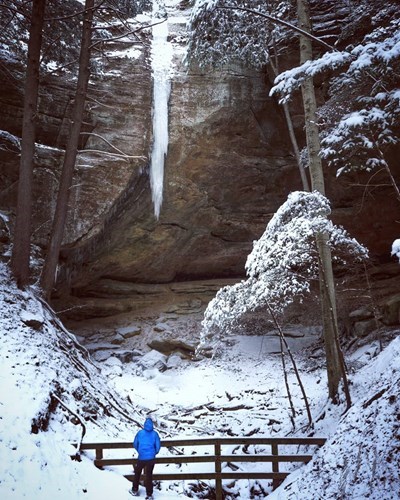 Credit: @Mundlife 
"My husband and I were flying out of Dallas to Maui. We got one hour out over the Pacific Ocean and cabin temperature reached 90°F. THEY TURNED OUR PLANE AROUND and we landed in San Francisco where we stayed for six hours waiting for another plane. Finally fell in bed at 4 a.m. when we were supposed to arrive at noon the previous day. We promptly got sunburnt the next day. 😂 What a trip!"
"Riding seven hours to Tennessee while sitting on the hump in the middle of the back seat of a Camaro. Between two car seats. Really sucked. Lol"
"With my grandma and grandpa. Crossing the border, we were asked if we had any firearms. My granny says. "Of course! I always carry my pistol in my purse. Lol"
"We took a train to Toronto on the coldest day of the year and the boiler stuck open. It was so hot in the train that the only way you could get any relief was to stand where the two cars connected."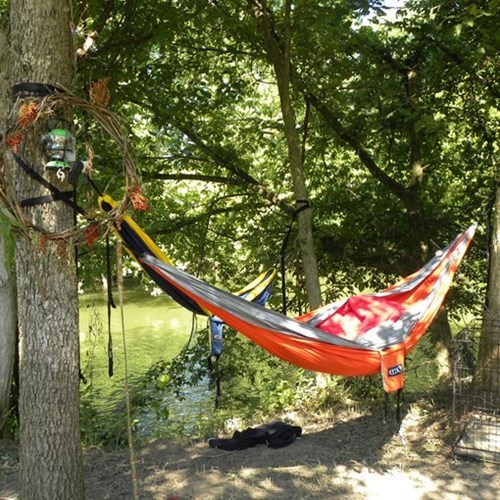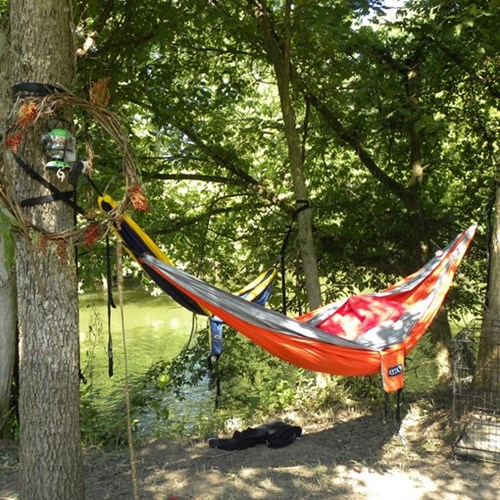 "Went out riding quads and the brakes went out on the trail as we were going downhill!! So, needless to say, I was scared to death. Didn't get to adventure the sites. Had to head home."
"Going to Myrtle Beach and W. Va., we looked like the Beverly Hillbillies going down the road; trailer loaded with bicycles and kayaks and a sailboat on top of the Jeep. May have looked silly, but it was a great vacation."
"Went to the Bahamas on a privately-owned yacht of a friend. Had a beautiful weekend with beautiful people. On the way back, the tide was low, and the yacht grounded on the reef. We had to be towed back to the Bahamas. Boo-hoo 😉 Poor us, we had to stay another day in paradise because there were no available flights that day. We had to go through customs, and for some of us, it was our very first plane ride."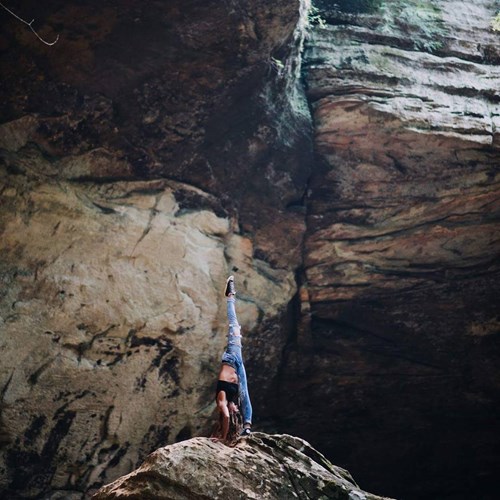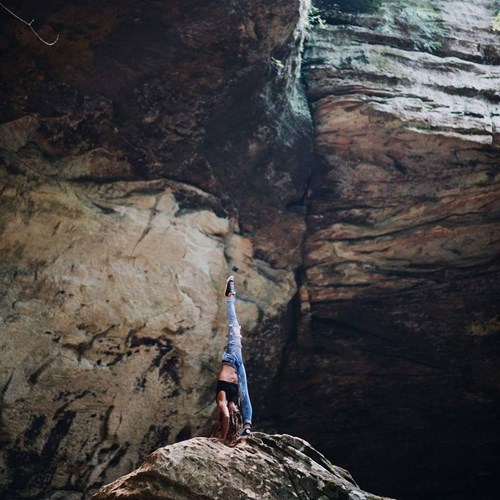 Credit: @novarosephotography
"About three years ago, my husband and I stayed at Ravenwood Castle. We decided to hike from Old Man's cave to the falls. Over half way, they had the trail closed due to part of the trail was heavily damaged. I decided to climb up and around. My husband hiked seriously close to the edge risking a fall into the water. I would not recommend this. (Hocking Hills note: Neither would we. Going off trails is a violation for a reason ... safety and park sustainability… and other than a fine and ticket could result in serious injury or death or serious damage to the park itself). We survived without incident. We made it to the gorgeous falls that were even more breathtaking than I had remembered. I think due to the overabundance of rainfall, which also caused the breakdown of the trail. We decided that this was too dangerous to hike back so we were going to walk the highway back. FIVE MILES up and down HILLS in sweltering heat. Maybe a mile into our trek, as we were resting on the guardrail, a gracious employee of the park saw our peril and gave us a ride back to our car. We were not his first rescues of this same fate. We laugh at ourselves and still enjoy the beauty of the Hills whenever we can get there."
"My boys and I were traveling from Ohio to Alabama in a used car I had just bought. We get to Kentucky and everybody knows you can't make it all the way through Kentucky without hitting a rain storm. The little skylight window was open and we fought like crazy getting that window closed. Rain was blowing in our faces the entire time. We get a little further down the road, stop for gas. We get back in and the door won't close, it had dropped down a little and I couldn't raise it back up. So, my oldest son takes his belt off and we tie it around the top of the door and back through that wonderful skylight window and on we go. We made it to Alabama, but it was the craziest trip I ever made. That old car had one heck of an engine in it though...lol"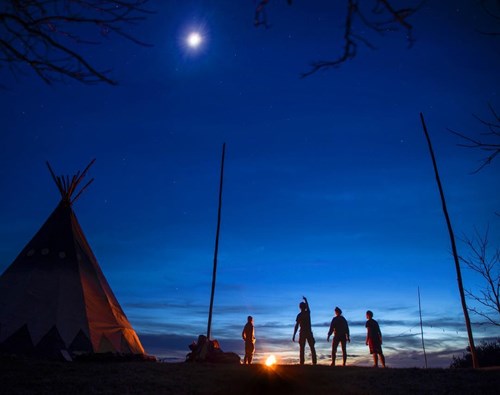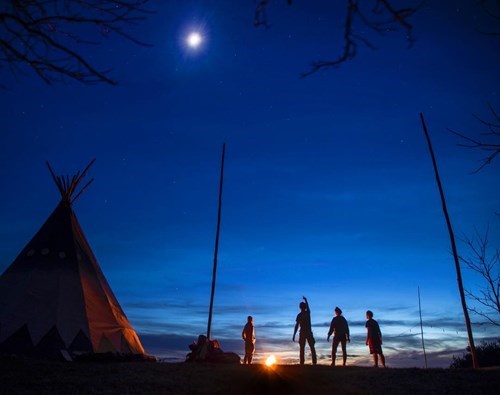 Credit: @OhioLuxuryLodging
"Our crazy travel story began 20+ years ago. My husband and I packed two suitcases and nothing else but a road map. No reservations and no clue where we were going. We drive through W. Va. then Virginia and stopped at little place called Fancy Gap. Upon checking into motel, the clerk asked if we had brought our creek wading shoes???? Little did we know all these years later, we would fall in love with a little part of the Blue Ridge Parkway. Since we never had a honeymoon this has been our go-to spot every year since."
"Our craziest travel story was when my husband and I were in Hocking Hills for our honeymoon driving to one of the caves and four deer jumped out in front of us. But, instead of running to the other side, they just ran on the road in front of us. So, for a good two to three minutes, we were just driving behind them. One even kept looking back at us 😂🤣"
"Bus broke down in Denali National Park. A momma brown bear did not appreciate us being there and proceeded to tear the bus apart! I thought we were going to be a sardine treat for momma, but the rangers came and sent her and her cubs on her way and got us back to the lodge."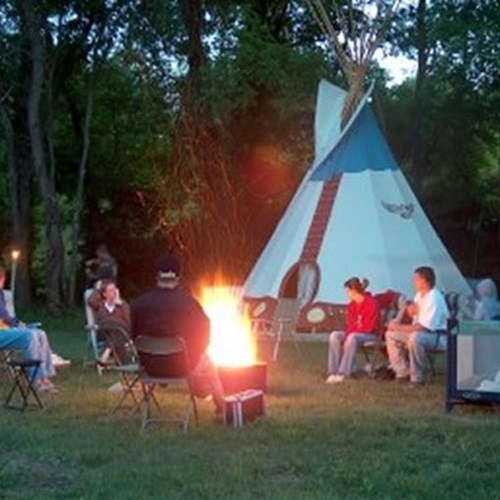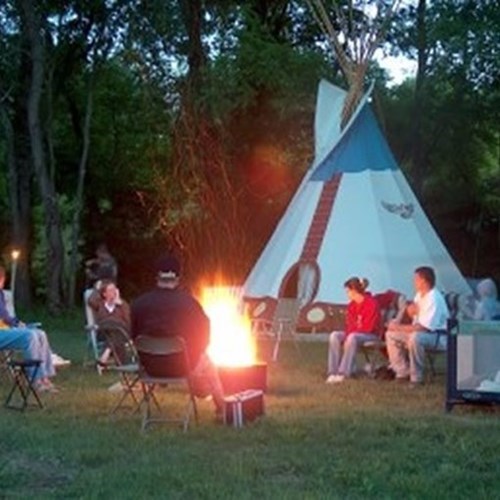 "Our family took the Narrow-Gauge Railroad in Southwestern Colorado from Durango to Silverton. My father was an avid hobby photographer. He leaned out the window to take a photo. As he did, he dropped his expensive 35mm camera. He told the conductor who offered him a return trip to see if he could find it, even though he had only paid for a one-way trip. I think he found it and was able to recover it."
"When my husband and I were 17-years-old and traveling with his 75 year old grandmother and our three week old son, he got stopped in Wytheville, Va for speeding five miles over and was taken to court at 12-I, the middle of the at magistrate's home, and we had to dig under car seats to find enough money to pay fine so we could go home."
"One year, when I was about 10-years-old, our family was staying at Lake Hope State Park and decided to go to the Tecumseh outdoor theater. Everything was great until near the end of it. It started to pour down rain!! And I mean pour!! It rained so heavy and hard that the ride back to the cabins ended up taking at least twice the time it normally would because there were a lot of roads flooded over and we had to turn around and try to find another way. Imagine this late at night in the pouring rain with four kids in the car!! We had a station wagon and my younger brother and I ended up laying down in the back and trying to sleep because the ride was forever. At least my dad had grown up in the area and knew it pretty well but, you know, there is no "going around the block" out there in the hills. Quite an experience that I'll never forget!"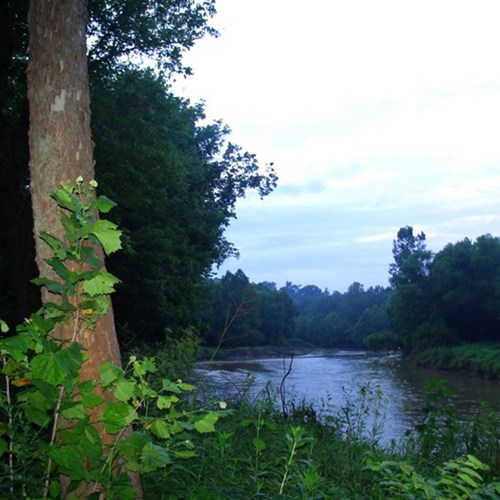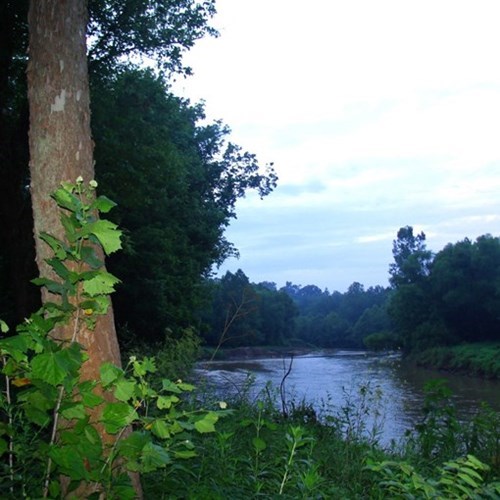 "Back when Mt. Pinatubo erupted in the Philippines, we were evacuated to Subic Bay, stayed there for a few days. Then, all the women and children ended up on The USS Midway for a week. That was the most wild experience, being on a ship right smack dab in the middle of The South China Sea. Eventually, by ship and cargo plane, we finally got back to the States."
"My fiancé and I were headed from camping in the Colorado Rockies to a campsite near the Pecos River in New Mexico. We'd driven about 100 miles in his 250 pick-up, winding through the mountains, then on the highway, when we pulled into a truck stop for fuel. We got out of the truck and heard a hissing sound coming from the back of the pick-up and found a 6-inch tent stake in the right-rear tire. Not only had we made it through the mountains without blowing the tire, there was a tire repair business behind the truck stop. The mechanics patched the tire and we left for the next campsite feeling like the luckiest two people on the road."
"I was 18, on a subway train in London and I didn't get off in time. My sister and her friends were on the platform and she said I looked like I had just been shot in the a $$ as the doors closed. I was there for Lady Diana and prince Charles' wedding so it was pretty crowded. I went to the next stop, got off the train and instead of going to the other side to head back, I went OUT into London. This was obviously in the days before cell phones. Surprisingly, we caught back up rather quickly. I learned a lot on that trip. lol"

"Well, in 1979, I was sitting on Daytona Beach at night and a car ran over me. Does that count? Or, in 1968, we went to Pikes Peak and took a bus to the top. Mind you, the road was barely wide enough for the bus. It was truly petrifying. The same year, we went to Yellowstone National Park. It was July. A blizzard hit and we were pulling a huge camper in a Pontiac Bonneville. We are from Florida! There was a spot we had to stop because bears were in the road. They were jumping on hoods of cars, people were rolling their windows down to FEED the bear and a bear cub clung onto the window and climbed half way in before they could get the window up. In 1977, I was driving home and fell asleep and ran into a power pole that was beside the RxR tracks. I flipped my international harvester wagon ONTO THE TRACKS. I slept through it all until the cops pulled me out. I knocked out the electric in an entire community. I only had a scratch."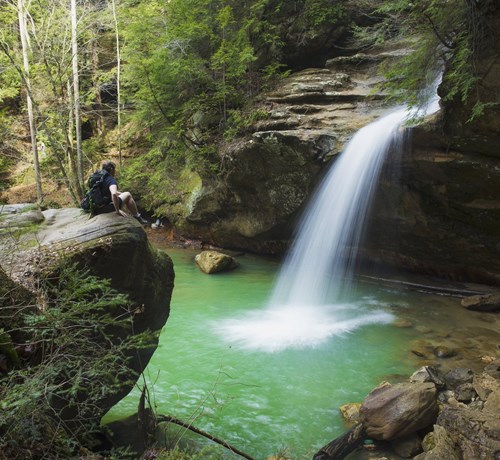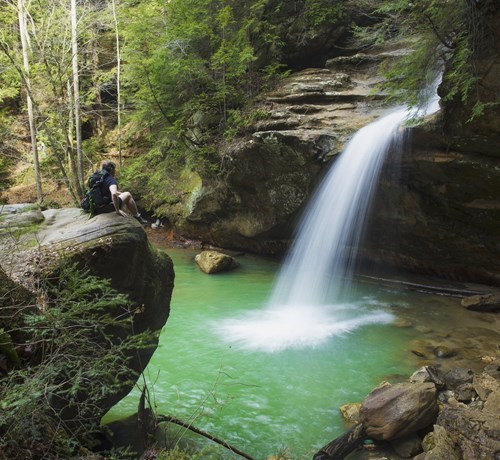 Credit: @aaronrigsby
"My husband and I took my dad out west in a 33-foot motorhome on a wild trip. We never take our eyes off my husband, because he has no sense of direction. Lol. Dad laid down to nap and I was fixing sandwiches when I got to the front I noticed the highway had gotten really narrow. I asked what he did and he said "Nothing, I followed the road." I looked up the mountain and saw a car the road he followed was a bike path. After a half hour of panic, we finally came upon a parking lot. We drove to our next destination, which happened to be Hells Canyon. My husband asked two boys directions and they asked if were taking the motorhome up the trail. My husband said yes with a big grin. I'm watching the two boys in the mirror and they are bent over laughing and hitting each other. I told my husband that I didn't think it was a good idea. He said "I know what I'm doing be quiet." On the way up, signs said be careful, on up it said no turn arounds, the last one said no vehicles beyond this point -- tow trucks cannot go down. I got out and looked, it was straight down and the bottom had old rusty cars scattered around. My husband said get it in, we are going down. I didn't drive this far for nothing. After I said a few choice words, we went back down the hill till we could turn around with the back end hanging over a cliff. Now, he has to wait till we stop to eat or drink. Check out Hells Canyon."
"In 1995 we traveled to Lancaster, Penn. for church meetings and to see the caves. We also visited Longwood Gardens. If you have never heard of them; look them up. It's a gorgeous place. Well, the week was through and it's about 90-some degrees out and the air conditioning quits working. No problem, I grew up without any air conditioning. But then, the power windows stopped working, too. That is not good. We had to stop every 10 to 15 minutes to be able to breathe at all."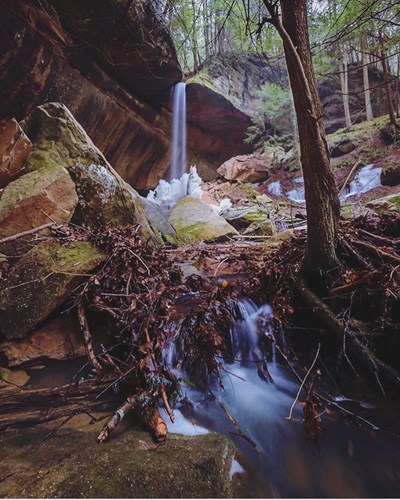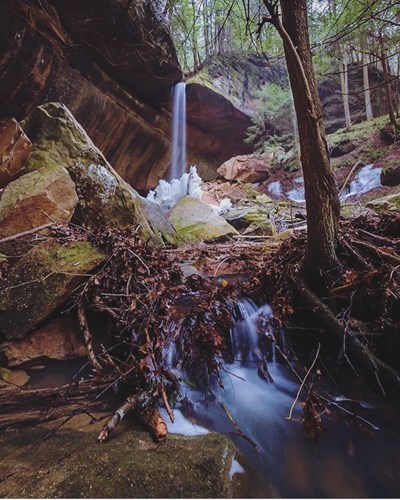 Credit: @OhioGood 
"June 28, 2015, at 11 p.m., I was rear ended by a black extended cab Denali. I was driving a Dodge Caliber. The driver of the Denali hauling a 4-axle trailer without license plates then took off leaving us in the middle of the street. It was all caught on red light camera. However, without a visible license plate, no one was ever caught, leaving my insurance responsible. After the police were done with their investigation, they had me move my car out of the street as -- in their words -- the "tires were not rubbing the tires." Called the insurance and made arrangements to leave the car in Myrtle Beach at an authorized auto repair shop. Now, here is the kicker, as the next day was Sunday and the day we were checking out, all the arrangements made went up in smoke. So, with the hatch smashed into the back seat, no back glass and only the passenger turn signal, I decided to drive it home to Ohio. We had a banner we put across the window and our caravan worked together as to not get pulled over. We arrived safely at home Sunday evening and first thing Monday called the insurance company. I then took my car to Athens, Ohio where they took one look and said.... um you drove this from Myrtle Beach? My response was, of course, yes? And he said, ma'am, this car is totaled 😂😂😂"
"Fourteen years ago, I was told about a caboose in Ohio that I had to go see. I googled "caboose cabins in Ohio" and up came one in Hocking hills. I booked it immediately and anxiously told my coworker and asked if she could tell me what there was to do there. Funny thing was she'd never heard of Hocking Hills and I booked the wrong place. No refund, so I ended up talking my aunt into going and took my daughter....14 years later and we still go and every trip I get a pic at Ash cave 😍"
Posted: June 08, 2018