Discover the best less-trekked Hocking Hills hiking trails
Plus directions to get these often hard-to-find trails

Talk of hiking in Hocking Hills usually begins with Old Man's Cave, the region's most iconic destination. But if you're looking to break away from the crowds and into wilderness largely untouched by man and mostly silent save the sound of chirping birds, whirring crickets and croaking toads, head to the State Nature Preserves.

The focus at these Nature Preserves is strictly on the, well, nature. The areas feature diverse stretches of natural areas with rare and endangered species and wondrous geologic features. Most contain small parking lots and a trail system with unimproved, narrow paths. The Nature Preserves are likewise often sparse with facilities like restrooms and picnic tables. But all are open year-round during daylight hours, and no permit is required to access them.

Add that all up and you get the perfect "undiscovered" Hocking Hills hiking trails. Here are six of the best lesser-known hiking trails to check out.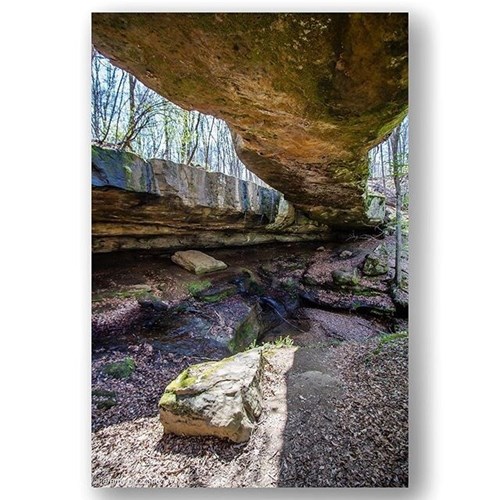 The view from under Rockbridge Natural Bridge is just as breathtaking as it is at the top.

Photo by @jeremybizzano via Instagram
1.) Rockbridge Natural Bridge
Featuring: The state's largest natural bridge

Rockbridge Natural Bridge is believed to be the largest natural bridge in Ohio, spanning more than 100 feet across a ravine and gracefully arching over a valley bountiful with spring wildflowers. Water trickles over the recess cave to your left as you walk across the bridge (but be careful as mud often accumulates on the narrow walkway). While the view from the other side isn't much, it's definitely a thrill to traverse the span.

Rockbridge is also, perhaps, one of the most popular and least undisturbed on this list, which is to say you might hear the occasional "Woo!" and "Yippee!" from nearby zipliners. But the bridge is still "hidden" because finding it can be relatively challenging. You can park at the trailhead and take the 2.75-mile trail, or even paddle down the Hocking River in a canoe and disembark at the river bank when you see the state park sign. Hocking Hills Adventures, for one, features several trips that'll bring you to this spot. The bridge is a short two-minute walk away.
Directions to Rockbridge Natural Bridge
11475 Dalton Rd., Rockbridge, Ohio 43149
From Rockbridge Village, travel southeast on U.S. Route 33 for 1.7 miles and turn left onto Dalton Road. Continue on Dalton Road for 0.75 miles, first travelling southeast and parallel to Route 33, and then head north to the parking lot on the left side of the road at the entrance sign.
2.) Rhododendron Cove
Featuring: More native rhododendron than anywhere in Ohio

As the name suggests, Rhododendron Cove is flush with its namesake. In fact, naturalists believe this is likely the home of the largest native population of the great rhododendron (Rhododendron maximum), the native rhododendron in Ohio. And if you visit the trail soon, you'll be in luck, because peak blooming is typically during late June and early July.

The rhododendron aren't the only worthwhile sights in Rhododendron Cove, though. Throughout the 1.2-mile trail, you'll encounter a significant chestnut oak community with Virginia and pitch pine, sourwood and a well-developed heath layer of mountain laurel, blueberry, and deer berry. And though it's a relatively strenuous hike to the top of the horseshoe-shaped ridgeline, the view of the Hocking River Valley makes it worth it.
Directions to Rhododendron Cove
2730 Pump Station Rd., Sugar Grove, Ohio 43105
Located south of Lancaster and northwest of the village of Sugar Grove. A small gravel parking lot is located on the north side of Pump Station Road about 0.1 miles west of Old Logan Road.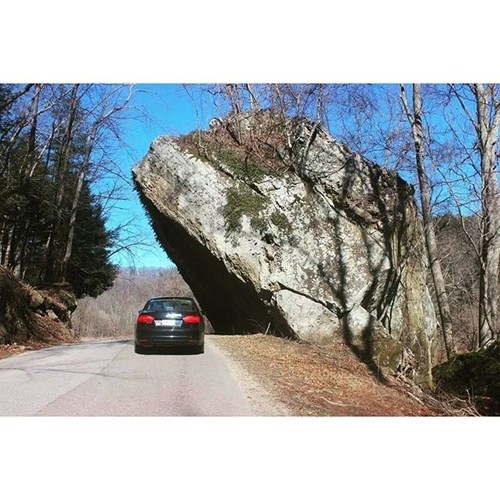 The famous Leaning Rock at Clear Creek Metro Park

Photo by @tree_bear11 via Instagram
3.) Clear Creek Metro Park
Featuring: The state's largest nature preserve and 20 miles of trails

At 5,300 acres, Clear Creek is Ohio's largest nature preserve. And with more than 20 miles of trails weaving through scenic cliffs, rugged formations, fishable creeks, spring wildflowers, and breathtaking sandstone gorges, it's a popular spot for trail runners, long-distance hikers and anglers alike.

In fact, June 4 presents the Clear Creek Trail Run, a 10k and 25k tour of the Clear Creek Metro Park that takes you through pine forests, rolling meadows, dipping ravines and the bustling Clear Creek itself.

Wildlife abounds in this preserve, too. Naturalists estimate there are 2,200 species of plants and animals in Clear Creek, with forested areas featuring Canadian hemlocks and ferns, oak and hickory, and one of Ohio's last remaining colonies of rhododendron. The black vulture can also be found here, in addition to at least 18 species of warblers that have been reported to nest within Clear Creek Valley. And because it's part of the Columbus/Franklin County Metro Park system, there are also restrooms and picnic tables.
Directions to Clear Creek Metro Park
185 Clear Creek Rd., Rockbridge, Ohio 43149
Located about 7 miles south of Lancaster. Follow U.S. Route 33 to Clear Creek Road and proceed west 3.5 miles. The preserve includes land on both sides of Clear Creek and the adjacent Clear Creek Road.
4.) Boch Hollow
Featuring: Ohio's largest population of the endangered Running Buffalo Clover

Located in northern Hocking County at the edge of the Hocking Hills region, Boch Hollow is one of the newer additions of public land to the Hocking Hills region. Dr. Francis and Mrs. Joyce Kessler began acquiring land in the area in the 1960s, and in the late 1990s the couple set up an endowment that ultimately gifted the property to the Division of Natural Areas and Preserves about two decades later.

The 570 acres of Boch Hollow are brimming with a wide diversity of habitats, most of which you'll encounter while hiking the 3.5-mile trail. Expect to see a small pond, river banks, mature wooded hills, ridges, and old field remnants, in addition to the most notable botanical feature at Boch Hollow: the largest population in Ohio of the Federally Endangered Running Buffalo Clover.
Directions to Boch Hollow
Trailhead: 7000 Beach Camp Rd., Logan, Ohio 43138
Located 8 miles north of Logan, take State Route 664 North, turn right onto Beach Camp Road, continue about 1 mile, parking area with sign is on the right. No access to facilities from the trailhead.


Many pictures of Conkles Hollow feature the area's stunning vistas, but the sights down in the valley below are plenty compelling too.

Photo by @itatonka via Instagram
5.) Conkles Hollow
Featuring: Stunning sheer sandstone cliffs and brilliant wildflowers

If you've seen photos of people in Hocking Hills taking selfies next to the edge of a cliff overlooking an expansive valley below, chances are it's Conkles Hollow. (For safety reasons, we don't recommend this.)

Conkles Hollow is, in other words, spectacular. Water cascades over sheer Black Hand sandstone cliffs, which rise nearly 200 feet above the valley. Many consider the gorge to be the deepest in Ohio, and the spring wildflowers are brilliant this time of year. There are also parking lots, restrooms and 3.5 miles of trails to explore. The Lower Gorge Trail is 1 mile long and was recently redesigned to accommodate visitors of all abilities.
Directions to Conkles Hollow
24858 Big Pine Rd., Rockbridge, Ohio 43149
About 12 miles south of Logan on State Route 664, 1 mile north on State Route 374, and 0.25 miles east on Big Pine Road to the signed entrance.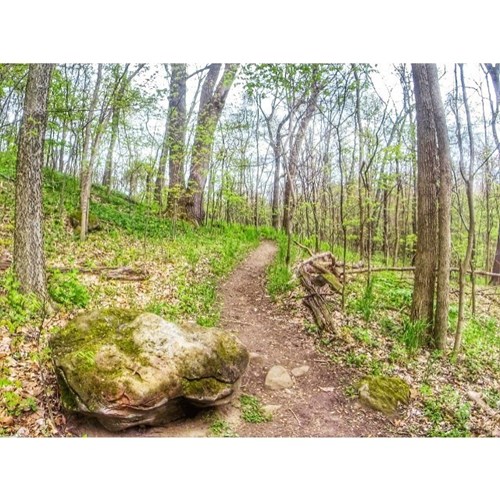 A walk through Shallenberger is sure to recharge you.

Photo by _leeha_ via Instagram
6.) Shallenberger
Featuring: Impressive vistas overlooking the valley

A long, long time ago the Shallenberger area was an ocean. Over the years, the sand deposited there compacted into rocks, creating the Black Hand sandstone formations found today in this state nature preserve.

Most prominently, this long process of weathering produced Allen Knob and the smaller adjacent Ruble Knob. Allen Knob is the most astonishing, with impressive vistas some 240 feet in the air overlooking the surrounding countryside and lowland plains to the west.
Directions to Shallenberger
2468, 2598 Becks Knob Rd. SW, Lancaster, Ohio 43130
Located in Fairfield County, 4 miles southwest of Lancaster on U.S. Route 22; proceed 0.25 miles north on Beck's Knob Road to the marked preserve parking lot and trail system.
Ready for a hiking adventure in Hocking Hills?

If you want to make the most of your hiking adventure, why not make a weekend of it? Check out our Availability Search Tool, which lets you select your lodging preferences to find the perfect home for your specific Hocking Hills adventure. You can also call our Welcome Center at 740-385-9706 or 1-800-HOCKING (462-5464). Our travel counselors will help you find the perfect spot to recuperate from your hikes.
Posted: May 05, 2016