Your Instagram selfie isn't worth hiking off-trail
Why you should stay on marked trails while hiking in Hocking Hills

If you've ever been hiking in Hocking Hills, you know: Beauty abounds everywhere. Around every crook in a creek and over every precipice of a hill is a call to explore, to discover, or to photograph.

It is, in a sense, human nature. To boldly go … off-trail? Not so fast.

We get it: The temptation to leave the trail can be immense. Waterfalls, caves, and wildlife are seemingly everywhere. Just a few steps closer and you'll get an Instagram photo of that waterfall from an angle no one's done before. No harm, no foul, right?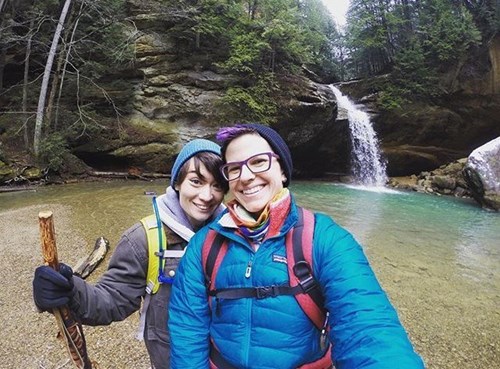 Photo by @heather1ove via Instagram

Except, on average, several falls, sometimes fatal, occur in the Hocking Hills region each year. The same majestic scenery and sense of adventure that compel hikers to visit the region can become lethal in a moment, unless basic safety procedures are followed.

Between 2013 and 2015, three people lost their lives hiking in the Hocking Hills area when they left marked trails. The trails are there for a reason, and it's not to limit your fun: They're there to ensure you can return to the park another day.

While trails are regularly inspected and updates are made as needed, the beautiful sandstone formations on display in the region are often slippery and/or unstable. Some areas may seem stable from the vantage point of the hiker. But, if you see that same area from below, it's apparent that a departure from the trail leads stray hikers onto a dangerous outcropping of unstable rock — this is no place to be.

In the words of one veteran park ranger, "Typically, if you stay on the trail, you're going to be alright." Nearly all of the falls that happen in Hocking Hills parks happen when tourists leave the trail, often for photos. What can seem like an innocuous sojourn away from the markers can quickly end in a trip to the hospital — or worse.
When hiking, keep dogs on the trails, too.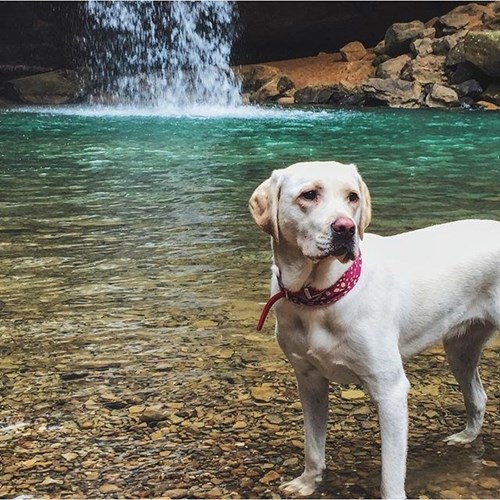 Photo by @savvythewhitelab via Instagram

Caption: Pets are welcome most places in Hocking Hills, including Old Man's Cave, Cedar Falls, and Ash Cave Gorge.

You can definitely bring your pets to Hocking Hills. In fact, pets, with leashes, are permitted in most recreational areas, including parks and trails, with the exception of swimming beaches. (It's no wonder Hocking Hills was named one of the top dog-friendly U.S. vacations by DogFriendly.com.)

But there are areas where pets are not permitted, including on Clear Creek's nature trails or in Conkle's Hollow State Nature Preserve and Rockbridge Nature Preserve.

Even on the permitted trails, especially the elevated ones, it might not be a good idea to bring your pup. Imagine what could happen when your dog catches sight of a rabbit as it darts across the trail, bringing him precariously close to the cliff's edge? And what if you are holding onto his leash?

There's also something to be said about pets becoming a stressor for the very wildlife you and other hikers are hoping to see.
Hike sober or don't at all.

There's nothing like a cold beer back at the cabin after a long day hiking the trails in Hocking Hills. But hiking while drunk or under the influence is an incredible danger to yourself and others.

Not only is your judgement off while you're dealing with potentially slippery rocks, tree limbs, and steep climbs, but your inhibitions are lowered, too. If you're drinking with your friends on the rugged passages that make up portions of the Hills, you're in danger — it's as simple as that.

In addition, the Hocking Hills are a place where families gather and where parents take their children to see nature. There's nothing natural about you and your buddies all buzzed up.

Be reasonable, and be respectful — this amazing wild place is here for everyone to enjoy. And it's to be enjoyed respectfully. The old saying is that the forests were God's first cathedrals, and you don't have to be religious to feel reverence toward these old, beautiful woods.

Save the brewskies for the cabin.
Ready to book your Hocking Hills cabin?

There's no time like spring for hiking in Hocking Hills. Check out our Availability Search Tool, which allows you to set your lodging preferences and narrow your search. Prefer to talk to a person? One of our travel counselors would be thrilled to help you through your cabin search. Simply call 740-385-9706 or 1-800-Hocking (462-5464) during business hours: 9 a.m. to 5 p.m. Monday-Saturday, and 11 a.m. to 5 p.m. Sunday.
Posted: March 28, 2016