How to spend 36-ish hours in Hocking Hills in the winter
The perfect itinerary for a weekend getaway

Need to call a vacation blitz? With a cleverly arranged Friday off and a sense of adventure, the Hocking Hills region offers much to do. Here's 36 solid hours of natural wonder, excitement and re-setting.
6 p.m. Thursday

Yeah, you called off work tomorrow, for a basic, elemental reason: Sunday is not for adventure. It's for recuperating. Make your last commute in irritating traffic for the next 36-plus hours, and try to enjoy it. Smile through gritted teeth, and try to imagine the smell of the smoke from the camp drifting to your nostrils as your relax hard in that hot tub, cold beverage close at hand.

Get home, pack the essentials — you know the drill. This is like Boy Scouts meets "Weekend at Bernie's": You're going to need an ice chest, a first-aid kit (just in case), some … rope? (what for? Still, it's camping, I guess … better safe than sorry) and a selection of adult beverages. Take a look at the weather forecast and prepare accordingly. Wool socks are warmer, provide more hiking cushion, dry fast, and are less likely to smell like cabin varmints.
9 p.m. Thursday

Get on the road, and don't forget your high-beams: The Hocking Hills is a beautiful place at night. Under any size moon, it can be surreally serene. Also, deer. Just tons of deer. Watch for their glowing retinas as you drive. (Also, if it's foggy, switch back to low beams and go slower — and it's often foggy.)

Try to take Ohio 56 from Circleville, if you are coming from the north. Try to stop at the Hawk, a gas station open late (relatively for a rural area); they've usually got hot pizza, beer and all the materials you're going to need for the morning, including Falter's bacon and local eggs. That's right: You're going full country for breakfast.
11 p.m. Thursday

Chances are good that there's no one to receive you when you reach the cabin you booked. It's late! Let yourself in and issue the appropriate "oohs" and "ahhs" as you inspect your weekend domicile: locally made furniture, wood everything, fire ring, and, the piéce de rélaxation: the oft-outdoors hot tub. Fire that puppy up and pull a tab — your weekend has begun.
6 a.m. Friday


Six? In the morning? Are you nuts?

Yeah. Crazy enough to get up and watch the sun rise over God's first cathedrals. Make yourself some strong coffee (it even smells better in the brisk morning air of these lazy mountains), be quiet, and watch the sun burn off the fog. This is a moment made for sharing, but feel free to be selfish with your thoughts — watching a Hocking County sunrise is like lacing up the hiking boots of your soul. Approach hot tub and … fire that puppy up. Morning coffee in a paradisenal hot tub is actually better than it sounds.
8:30 a.m. Friday

Enough fooling around. You know the next move. Here are some helpful hints: bacon likes medium heat, and don't muck about with it: fry one side, turn it, fry the other side. Don't keep poking it around. Eggs like high heat, and finish cooking on the plate — don't get them as done as you want in the skillet, or they'll be hard as rocks. Pro-tip: Drain almost all the bacon grease from the skillet, but leave a little, and mix in a little butter … just a dab or two. Yeah, boy.
1 p.m. Friday

Enough post-breakfast loafing. Turn off the hot tub, cover it up, and figure out how to get to Conkle's Hollow. There are two hikes: the placid (and shorter) hike around the bottom of the hollow, and there's Conkle's Rim. If you brought a thirst for adventure, hike the top, where the trail passes over crevasses that provide a vertical portal into the 200-foot-plus drop to the bottom.
5 p.m. Friday

Dinner. After a decent hike, you're going to be hungry. Grab dinner at the Glenlaurel Inn.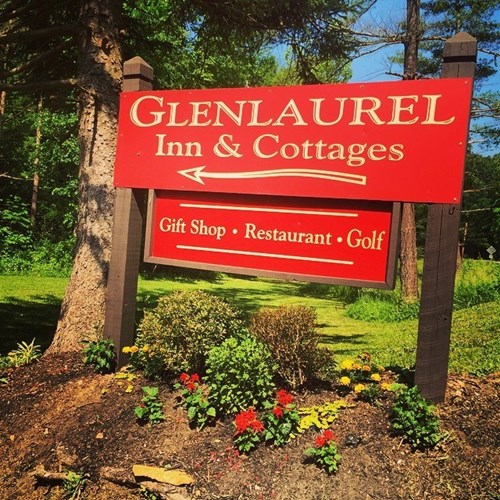 Photo by @glenlaurel_inn via Instagram
8 p.m. Friday


No need to push it. Hopefully there's enough light coming through the trees back at the cabin for you to try your hand at building a fire. That's right: You're a woodsman right now. There's dead, dry grass all over the place near your cabin, an abundance of small sticks, and you watched one or two episodes of Bear Grylls. (And, failing all that, the trusty starter log is in your trunk … no one has to know.)
10 a.m. Saturday

No reason to overdo it on the early rising. Last night's fire saw the passing of a bottle, and you told old stories and made up new ones as the sparks from the fire floated overhead until the wood was gone, and then a little longer as the embers glowed in the darkness.

Put on some coffee, but better not fool with breakfast — grab some of the best doughnuts of your life at Penny's Pastries on Main Street in Logan, and then slip over to Clear Creek for some of the best trout fishing in Ohio. The stream is stocked with browns each year and, while they don't get so large, there are plenty of them. The Clear Creek is one of Ohio's most popular fly-fishing hotspots, but throwing worms is easier.
2 p.m. Saturday


Saddle up at the Equestrian Ridge Farm. Be sure to use Google Maps to get there, as the website warns, "DON'T USE MAPQUEST OR IT WILL ROUTE YOU ON BETHEL RD. AND YOU WILL PROBABLY GET LOST or end up in a ditch!" That's how you know you are remote.

Equestrian Ridge's unique approach to trail riding allows riders much more control of their horse, as opposed to the animal just following the tail in front of it. With a variety of rides ranging from simple pastoral moseying to more challenging climbs and descents, and the rewards are commensurate with the risks: several of the harder rides feature visits to secret places not otherwise accessed.
5 p.m. Saturday

Saddle sore and satisfied, stop by the Hocking Hills Winery or Hocking Hills Moonshine and grab a bottle of wine or moonshine to take back to the cabin. If you're inclined to stick around, both offer tours, and the winery has live entertainment on most weekends. If you're opting for wine and itching to get back to the cabin, ask for something spicy and red, and drink it while waiting for the Hocking Hills Traveling Chef to finish your dinner. Gourmet food, prepared just for you. The chef brings the dishes and the food, plates them, washes the dishes — a great deal at $150.
11:59 p.m. Saturday

You relaxed hard, but you kept up the energy, too. I wager you turn into a pumpkin in about one minute, and with the comfortable bed and natural music coming from outside, you're going to get the night's sleep of a lifetime.
9 a.m. Sunday


Time to go home. Sorry. I know it's a drag. Take one last look at the cabin, hold it in your heart, and don't worry: The Hills aren't going anywhere, and, next time, maybe you can use the rope.
Posted: February 17, 2016