Five Romantic Winter Date Ideas Inspired by Hocking Hills
There's not much to do when the weather is so cold your car doors freeze shut. Even if it's not quite as drastic, being cold isn't always all that fun. However, it does offer the wonderful opportunity or excuse to spend a romantic night all warm and snuggled up with that special someone. If you need a few date ideas, we've got ya covered. Have some of your own? Share 'em with us!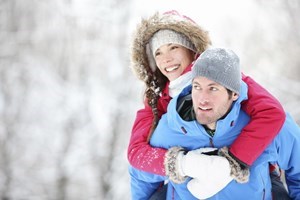 Star Gazing


Put a new twist on star gazing in the cold weather months. Grab a bunch of pillows, blankets and your snuggle buddy and cozy up in the bed of a truck. Park in a field or open area that's high up to catch one of the best celestial views in Ohio.


A Fireplace Picnic


It may be a bit cold to have an actual picnic, but that doesn't mean you can't grab a blanket and lay it down in front of a crackling fire place. Include a pillow or two for extra comfort while snacking on your delectables and sipping fine wine. Don't have a fireplace? No problem. Hocking Hills has plenty of wonderful accommodations to help get that fire going. Most places have hot tubs, too (an added bonus)!


Sledding


At a place with a name like Hocking Hills, there's bound to be some great sledding spots in the region. Grab a sled, or get creative with what ya got, and hit the hills! If you're lucky, maybe a snow ball fight or a couple snow angels will appear.


Join a Food Cruise


Every year, Hocking Hills hosts a food cruise featuring some of the best food and mom & pop restaurants you've ever seen (and tasted)! For just $18 a ticket for food the entire weekend, it's the perfect romantic getaway for you and your lovable foodie (any weekend in January). Tickets are available online or at the Welcome Center in Logan.


Bake together!


What better way to get warm in the winter than working in the kitchen with that special hogtie?

Remind each other why you make such a great team while making your cake … and eating it too! Have a special cookie recipe? Want to invent one together? Submit it in Hocking Hill's Cookie Challenge by Dec. 31 for your chance to be featured in the Cookie Recipe Book. Email the recipe, with your name and contact information, by emailing it to lfriedman@explorehockinghills.com or drop it off/send it to the Logan Welcome Center.

 

Share your ideas and check out our Pinterest for even more at https://www.pinterest.com/myhockinghills/ .
Posted: December 16, 2016