Hocking Hills is not only as a must-see destination for families, photographers and hikers alike–– it's also serves as a stunning wedding venue for couples who wish to marry there.

The southernmost of six natural areas that comprise Hocking Hills State Park, Ash Cave boasts a horseshoe-shaped rim that spans 700 feet with a runoff waterfall, so it's no surprise engaged couples seek out this awe-inspiring space to tie the knot. Throughout the years, many have said "I do" in the largest recess cave east of the Mississippi, and although the location may be the same, each couple's journey to the destination is unique.

The following Ash Cave wedding stories come from couples who submitted to the Hocking Hills Wedding Story Contest that ran in June 2016, and were selected to be featured.
Kerrie and Eric

Kerrie and Eric met in in 1997 through their love of music. They were friends for a few years before losing touch. After reconnecting, they started dating long distance. Kerrie's relocation from Texas to Ohio gave the couple the chance to travel around the state. They chose to get married in Ash Cave in 2015 because Hocking Hills is one of their favorite places to explore and get away for the weekend. Since neither Kerrie nor Eric wanted a big, elaborate wedding, it made sense to have their wedding here. It also made it a semi-destination wedding, because some family was coming from Texas and others from the Cincinnati and Columbus areas.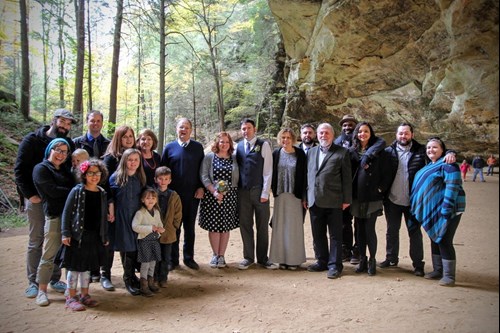 Photo courtesy of Louis Rideout
"We were able to be ourselves in a place we love with only our immediate family and a few friends present (and a few dozen strangers who stopped to watch the wedding!). The round of applause at the end from those who stopped at the cave to watch added to the experience."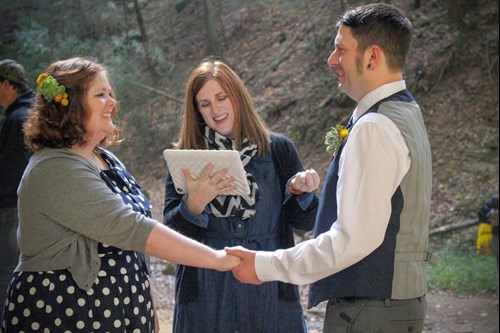 Photo courtesy of Louis Rideout

It was a fun family vacation weekend and a laid back wedding all in one. Millstone BBQ was delivered to their lodge for lunch after the wedding. "Everything was beyond our expectations and so perfect," Kerrie said.
Karen and Jeremy

Karen and Jeremy were introduced through Karen's brother. They talked on the phone and texted until they met in person, and have been together ever since. Karen's sister vacations in Hocking Hills every year, and knowing the couple wanted to get married by waterfalls, she suggested they check out the area. Jeremy and Karen took their grandson down to the Hills for a day to check out the sights, and they chose Ash Cave as their wedding venue. They got married on the 4th of July, and are looking forward to going back this year for their one-year anniversary.
"The scenery was excellent. The waterfalls were beautiful and there are so many different places to venture to."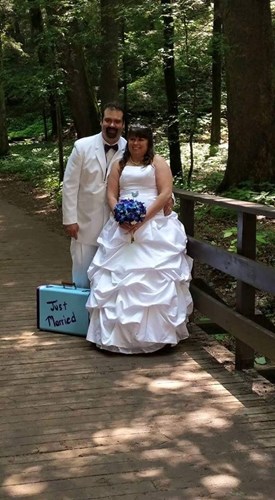 Photo courtesy of Jeremy Allshouse
Paige and Scott

Paige and Scott met online. Tired of dating websites, Paige had posted on Facebook about wanting to find someone with the same interests as her. Soon, Paige was connected with Scott: her perfect match. They wanted to get married at Ash Cave because of their combined passion for nature and photography, and all things Native American. The day of their wedding, rain looked to be in the forecast, but for Paige and Scott, the rain held out until right as they departed from the ceremony.
"The best part about getting married in Hocking Hills was the beauty of every place you go...to share our most intimate words, thoughts, vows outside before God in such a special place."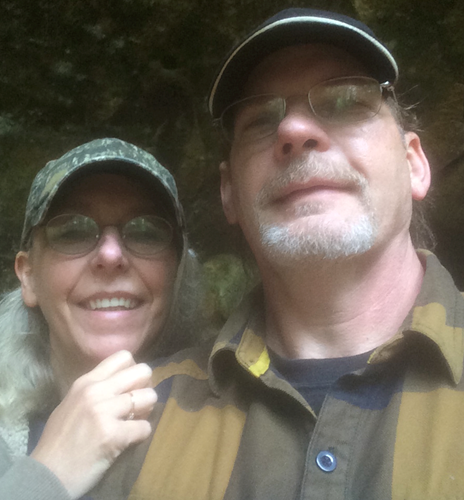 Photo courtesy of Paige Landis
Melissa and Jason

Melissa and Jason met in college when she knocked on his front door, looking for her friend who she thoughts still lived at what was now Jason's place. She was hoping her friend would be willing to be her dental hygiene patient for the day. Luckily for Melissa, Jason happily stepped in to volunteer, and their relationship developed from there. Jason eventually got down on one knee, and proposed at Ash Cave.

When it came to wedding planning, "it seemed like a no-brainer," Melissa said, to have their ceremony at Ash Cave, too. They planned their wedding at what they thought was a perfect time: early in the morning before crowds showed up. But, they arrived to several tour buses. Despite the unexpected additional wedding guests, Melissa and Jason wouldn't have wanted it any other way.
"Everyone including strangers were so excited for us. People were taking our pictures. We had a singer and violinist there. It was perfect! We are already scheduled to come back again for our anniversary this fall except this time there's a little one on the way!"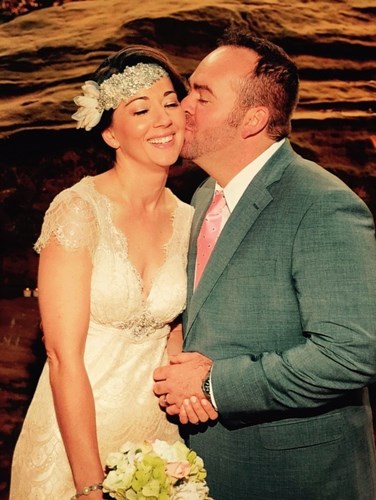 Photo courtesy of Melissa Moore
Kelly and Nikolas

Kelly and Nickolas are high school sweethearts have been together for 13 years (and counting). They decided to get married in Hocking Hills after Nickolas had proposed to Kelly at Cedar Falls. They had originally planned to elope, but their whole family decided that they wanted to enjoy the Hocking Hills experience with them. What started out as a few close relatives, turned into 50 people attending their wedding.
"We love natural Ohio!"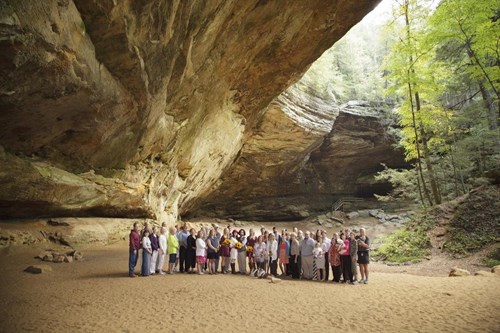 Photo courtesy of Kelly Licata

The couple frequents Hocking Hills since their wedding and even completed the 51st annual Winter Hike while Kelly was 7 months pregnant with their son.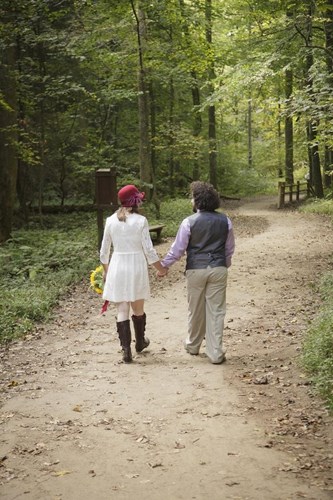 Photo courtesy of Kelly Licata
Interested in having a Hocking Hills wedding of your own?

Ash Cave is Hocking Hills' most popular wedding destination. It has a handicap accessible path and room for a large group to congregate. Contact Hocking Hills State Park staff by calling 740-385-6841 to get a permit, that can be purchased for a small fee. Check out our website's robust Wedding section for all Hocking Hills Wedding options.
Posted: July 14, 2016