How to Have Creepy, Crawly Fun in the Hocking Hills
Enjoy some kid-friendly and some scary Halloween fun in the Hocking Hills this month!
In October, most people think about the Hocking Hills because of the beautiful fall color. But there is oh so much more to do here!
Did you know you can have some Halloween Hocking Hills fun? Whether you're looking for some scares or something more mild, we have got a little bit of it all here!
So if you're ready to celebrate Halloween in the Hocking Hills, here's what you need to know: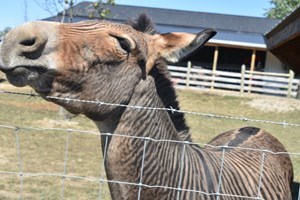 Kid-Friendly Fun
Bring your whole family for the Hocking Halloween Campout. It's your chance to go on hayrides, see a spooky movie and trick-or-treating. For older kids, search for unexplained activity at Ash Cave. For younger kids, do some pumpkin decorating together. 
Or if you want to try a different kind of trick-or-treating, bring your kids to Muddy Boots Farm for Trick-or-Treating with the Animals! This petting farm has everything from camels to zedonks for your kids to ooohhh and aaaahhh at, while getting some tasty candy. In addition, they will have a fish fry for you to enjoy. 
And don't forget to pick out your pumpkin at Walker Farm. In addition to pumpkins, enjoy hayrides, a corn maze and lots of other family fun activities!
Scary Fun
If haunted houses are more your speed, try the Wicked Forest. With new sets and live actors ready to scare, you'll never know what's lurking behind that corner. Be prepared for lots of scares here. 
For a theatrical experience, go to the Sleepy Hollow Experience at Haunted Mountain. This show will immerse you into a nightmare with the Headless Horseman looking for his next victim. Could it be you? 
Or maybe you want to look for ghosts. Did you know the Hocking Hills is full of ghost stories? Simply go out hiking on the trail. You just never know who you might meet!
Don't miss all of the fun you can have in the Hocking Hills this month! Keep an eye on our events calendar or try some of our things-to-do. 
Posted: October 16, 2019