10 Unique Cabins & Places to Stay in Hocking Hills You Don't Want to Miss
From yurts, tree houses, observatories, castles and more, Hocking Hills has plenty of once-in-a lifetime places to stay.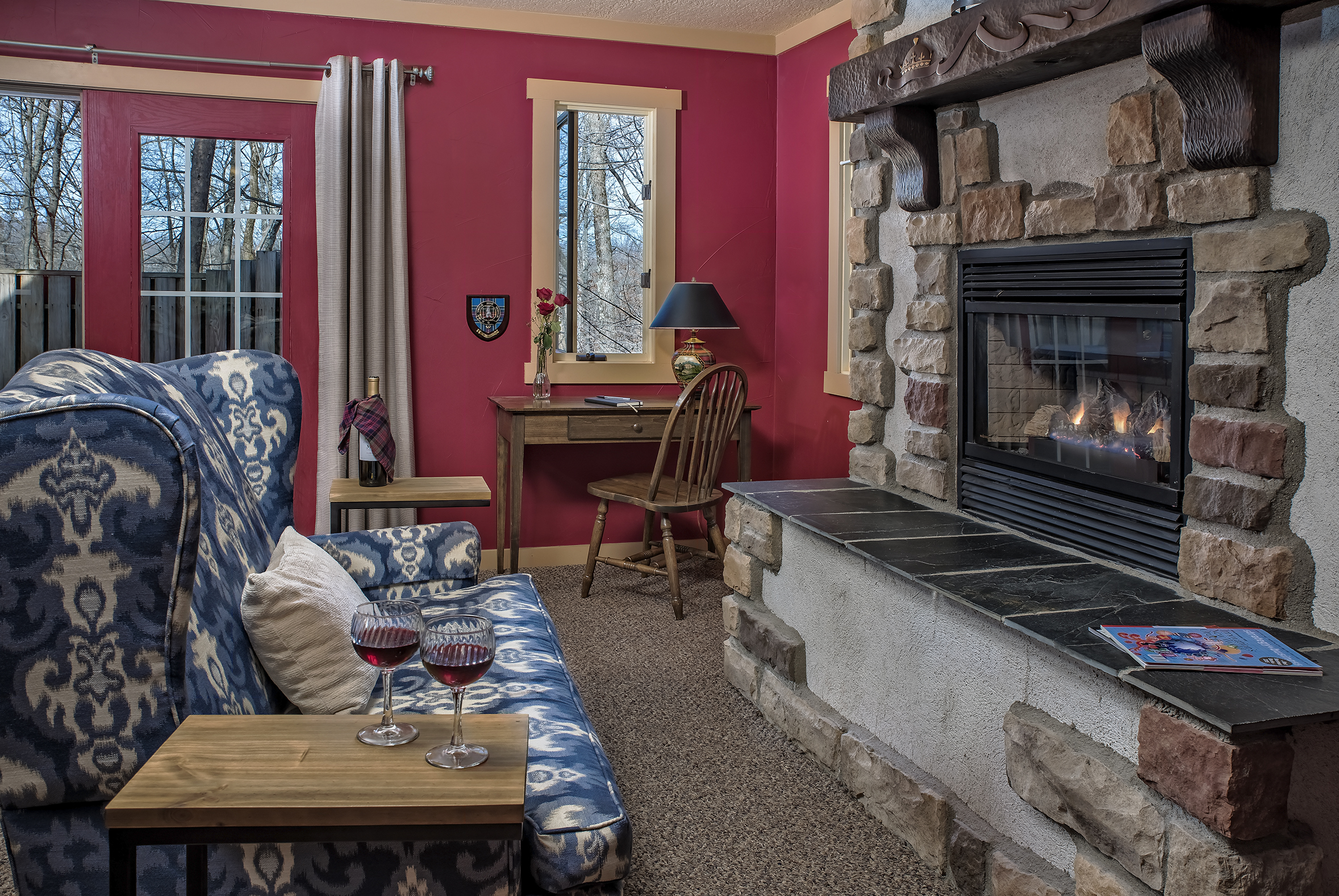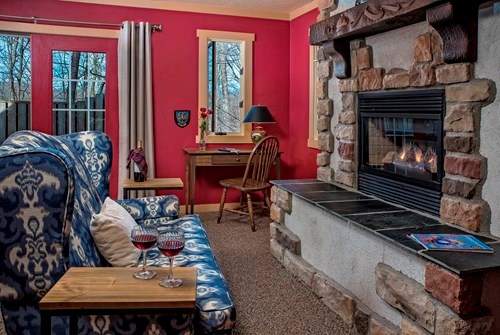 In Scotland, a croft is described as a small farmstead with a house, a barn, a small paddock or fenced barnyard. At Glenlaurel, they use the term to distinguish a smaller housing unit from one of their larger housing units. Glenlaurel's crofts are a smaller version of a cottage and are about 450 square feet whereas a Cottage is about 700 square feet. Glenlaurel has four east crofts on Thistle Ridge overlooking Camusfearna Gorge (their private gorge and hiking trails reserved exclusively for guests) and three west crofts in the Hamlet overlooking Bannock Burn Ravine.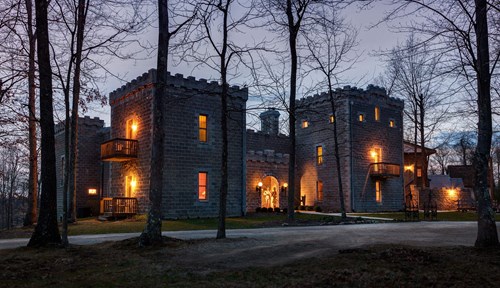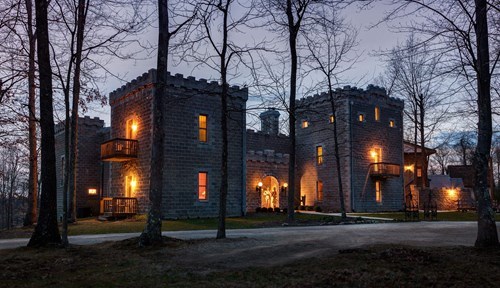 Nestled in the woods of scenic Hocking Hills, Ravenwood Castle provides a charming setting with a medieval flair. Whether you are planning a romantic trip for two or a unique getaway for family and friends, Ravenwood Castle makes for an unforgettable destination.
The beautiful remote location is surrounded by half a dozen state and national forests, which provides visitors with some absolutely amazing hiking. It also means they're one of the few places left where cell phones, television and internet service aren't all pervasive.
The disconnected nature of the location provides an ideal opportunity to enjoy some quality time with your family and friends, free of electronic interruptions.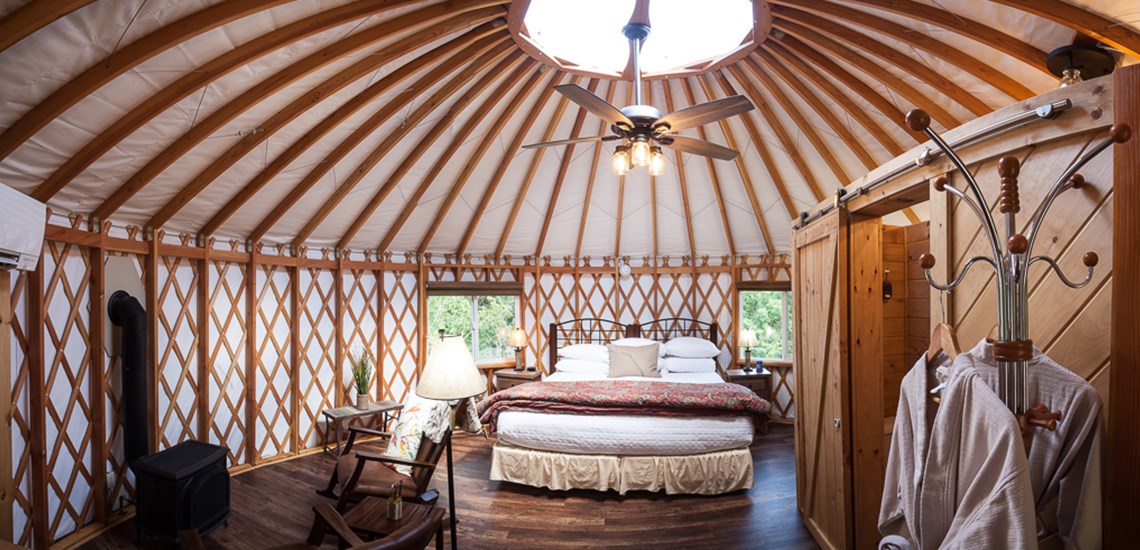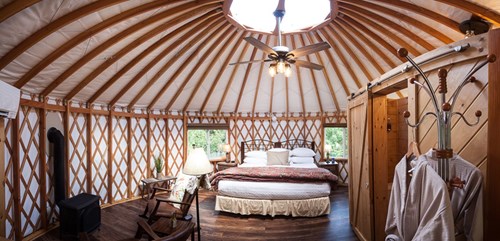 There is nothing quite like taking a break from our hectic day-to-day schedules and escaping into the tranquility of nature. Without the constant distractions, it's easy to relax, rejuvenate, and return home feeling refreshed and ready to go! However, if the thought of roughing it in a campground sends shivers down your spine, The Inn & Spa at Cedar Falls has the solution.
Their custom Hocking Hills yurts combine the very best of refined cabin life and tent camping.  It's the perfect opportunity to enjoy the comforting sounds, sights, and smells of nature without sacrificing the luxuries you'd find at most hotels and resorts.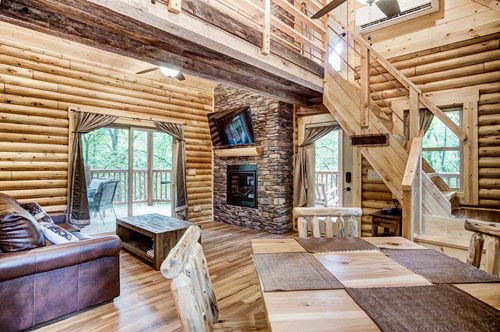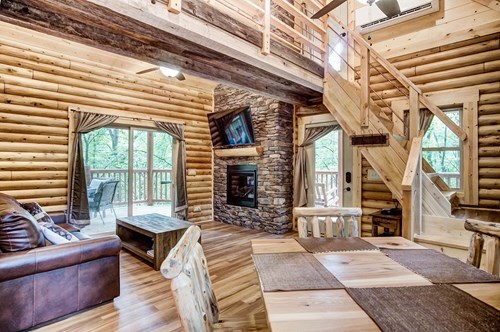 The Canopy Treehouse is Hocking Hill's first and only log cabin treehouse! It is an all-season log cabin nestled up in the trees 20ft off the ground made from 6-inch cedar logs. The second story deck is even higher at 23ft off the ground!
 Inspired by Treehouse Master's Pete Nelson, the owners decided to offer their guests a unique experience and "broke ground" in October of 2016, with its grand opening in July 2017. The treehouse features heating, air conditioning, plumbing and electricity. It has a fully equipment kitchen with granite counter tops, a large walk-in tiled shower, a gas fireplace, a king bed with 900 thread count linens, a hot tub, a large wrap-around deck, a smaller second level deck, an outdoor shower, fire pit, and it has wheelchair accessible doors and walkways.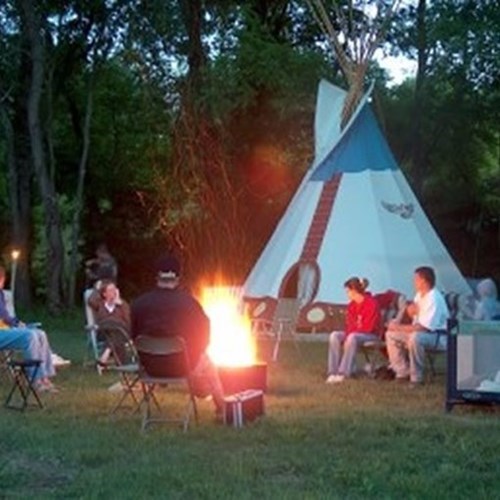 Whether you're a seasoned camper or a first timer, the authentic Sioux Style Indian Tipi's At Boulders Edge Cabin and Tipi Retreat are sure to bring out your inner nature lover.
Guests always comment on the size of the Tipi's and how majestic they are in their secluded setting. Each Tipi is 26' across and approximately 300 sq. foot inside and will sleep up to 10 campers. They sit on a wooden deck and have a fireplace in the center making it perfect for camping in any weather. This is primitive camping at its best and a way to glimpse a little American history at the same time. Perfect for couples, groups, families and scout troops.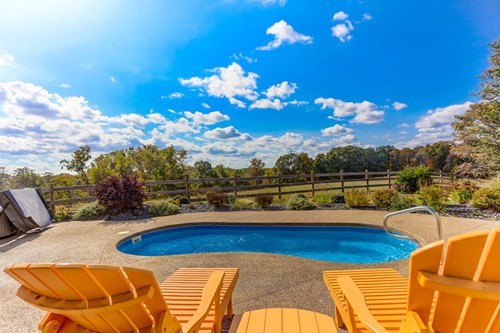 The Observatory luxury swimming cabin features three amazing water features for a one of a kind two-person romantic get-a-way not to be forgotten. The poolside deck has not only a heated in ground swimming pool but a Hot Springs hot tub and a fresh water fed in ground cold plunge. Cold plunges have been around for thousands of years and have been used in Chinese medicine for their therapeutic effects. This cabin will not disappoint. It also features a 14" x 14" rain maker shower head in a totally unique shower room with a handmade stain glass window.

The Tree House in Hocking Hills is secluded, peaceful, and relaxing!
The back porch is up in the tree tops. Three decks and fifteen steps up to the back door. Just five minutes from Old Man's Cave, Cedar Falls, and other attractions. Located on 5.5 acres with an acre stocked lake with only one cabin on the entire property.
The first deck has a hot tub, the second deck has a propane grill and picnic table, and the third deck is the back porch fifteen steps up. Enjoy all three decks while communing with nature. Go hiking or relax in the hot tub, enjoy the California King bed, roast marshmallows while sitting on the love-seat by the fire, watch TV in front of an electric fire place, enjoy fishing by the lack, or take advantage of the fully equipped kitchen or the propane grill … and that's just the beginning.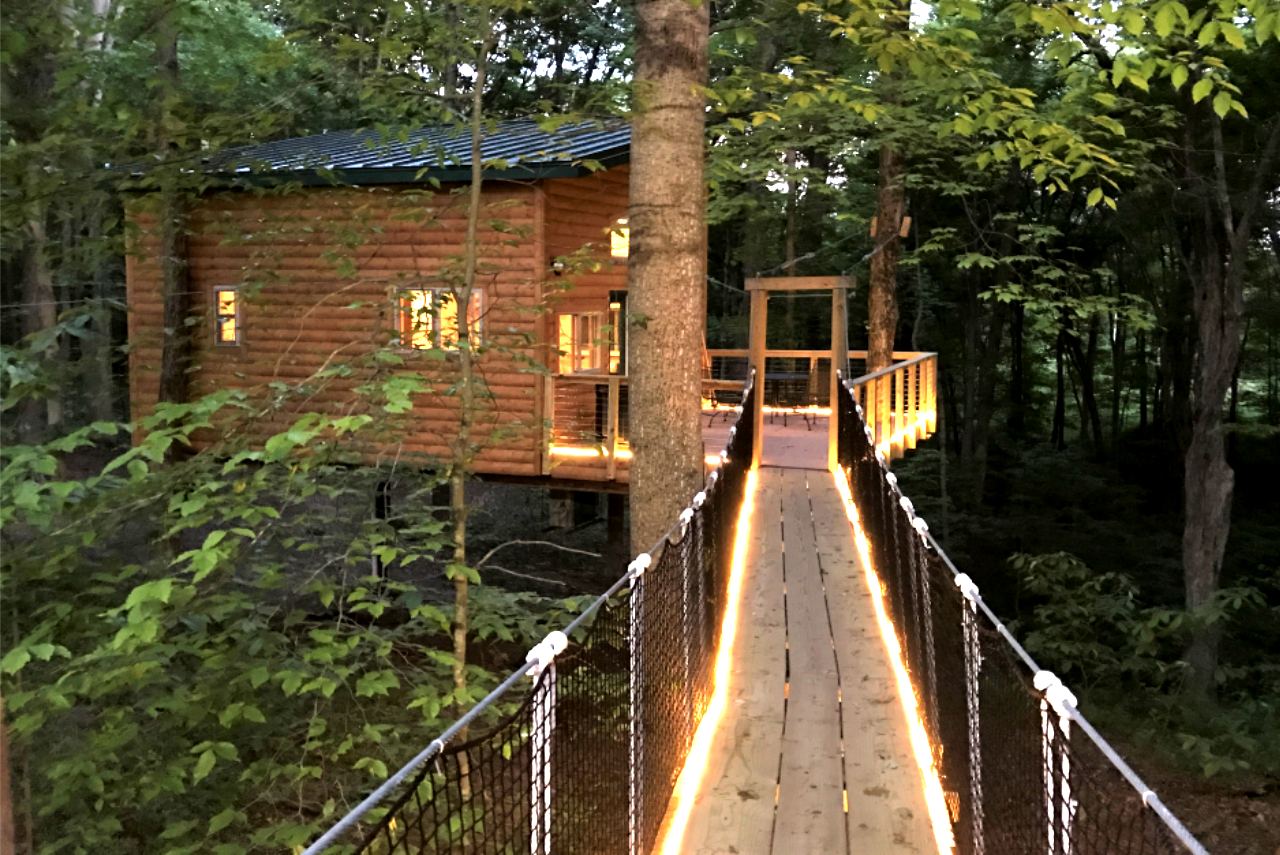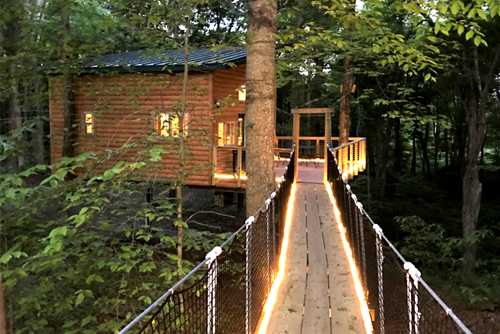 Remember as a kid wanting to climb a tree or build a tree fort?
Now you can rediscover that magic of being up in the trees, giving you a different look at the world and being away from it all by staying at the Maple View Tree House.  
When you stay nearly 17 feet above ground, you have a fabulous view looking straight out at the tree canopy where every season will bring new wonder and amazing views from either the outside deck area or inside through the expansive windows. 
Can't you just picture having your morning coffee or happy hour drinks, listening to the birds chirping and the leaves rustling in the breeze? From the vantage point, you could easily see deer wondering in the ravine below or do some star gazing while relaxing in the hot tub after a day of hiking.   Crossing the cable suspension bridge, you feel the gentle sway as you arrive at your tree house adventure. 
This tree house is actually built and supported by three maple trees, using a similar construction technique as seen on the Tree House Masters show.   Besides the spectacular views, this tree house has many features to make your stay relaxing and comfy.  Having both air conditioning and heat keeps you comfortable in every season.  It also has a bathroom with a shower, a kitchenette area to enjoy some meals and a private bedroom.  The cozy living area has numerous windows, a TV, an electric fireplace and a hand-crafted ladder leading up to the loft.  
Make your friends jealous and check out a stay the Maple View Tree House or our new Safari Tree House currently under construction.  The Safari Tree House will be distinctive and open in the spring time.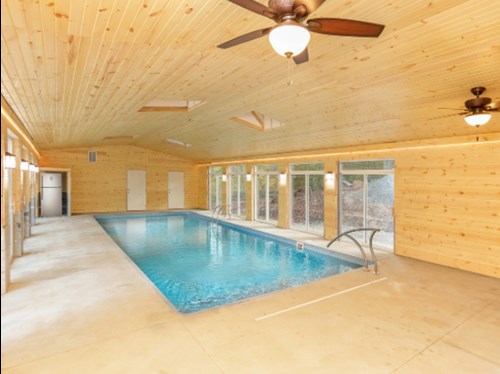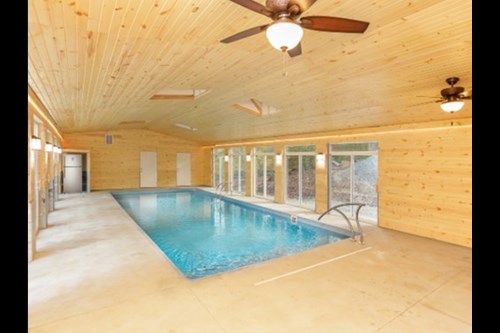 High Point Lodge is a unique Hocking Hills experience that combines past with present!
 It is 6.500 square feet, featuring original hand-hewn logs combined with contemporary finishes and furnishings. It includes custom log beds and a rustic dining table that accommodates up to 20 people. It's perfect for a large gathering, sleeping up to 26 guests comfortably with eight private bedrooms, five full bathrooms, three great rooms, two full kitchens, a billiards and bar area, a private hot tub, and an Olympic size salt water pool house.
It also has a secluded and park-like setting with a picnic area and children's play equipment, a 60 game arcade machine and indoor shuffleboard. Guests can access the Hocking Hills State Parks in minutes, located centrally off 180 in Rockbridge.
Don't forget about the Indoor pool house, either. Which has a private bathroom, additional refrigerator, glass sliders, indoor seating, outdoor decking and additional outdoor seating with fire pit
Reservations can be made for up to a year in advance and personal tours can be made in advance by calling the office at 877-322-2283. High Point Lodge is the Hocking Hills family destination that will turn your Hocking Hills vacation into a family memory.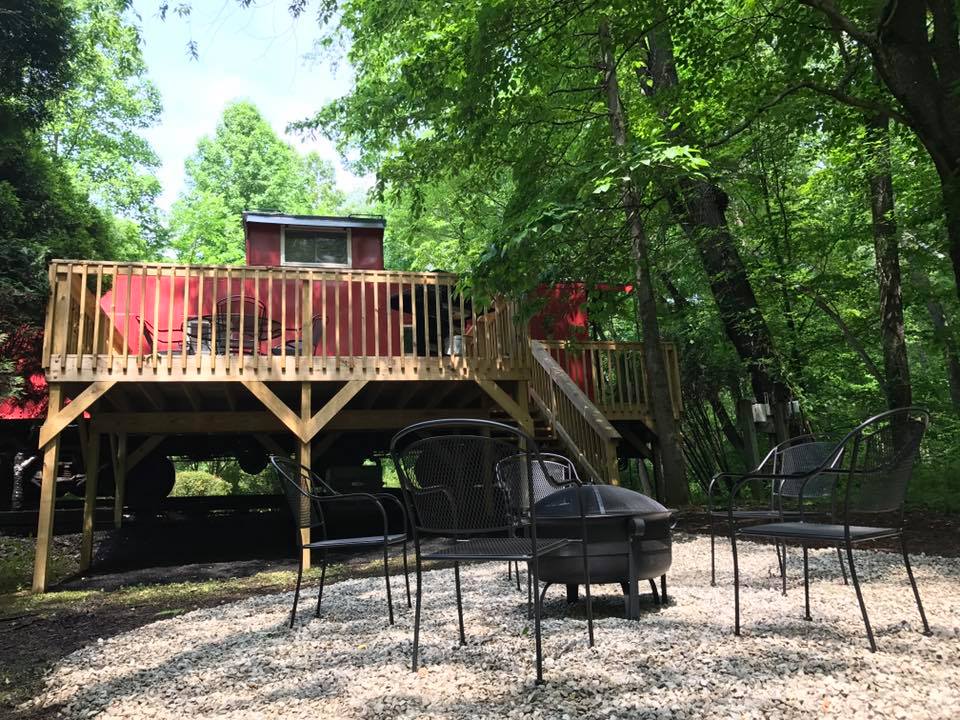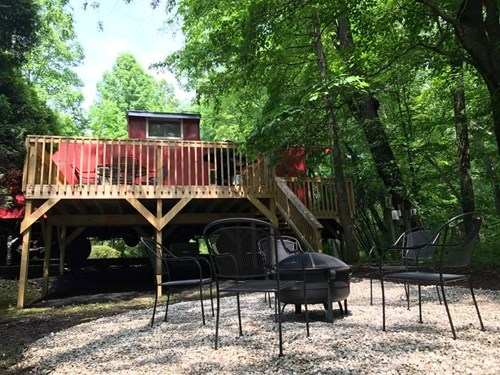 The Hocking Hills Caboose is located in the heart of The Hocking Hills.
When staying at the caboose, you'll be just a few miles from Ash Cave, Cedar Falls and Old Man's Cave. The Hocking Hills Caboose is a 1950's Seaboard Air Line Railroad caboose that's been converted to a guest cottage.
 The caboose is under new ownership, proud of the updates they've made with a renovation of the caboose both inside and out. The most exciting change is the addition of the new deck on the back of the caboose –  the perfect spot to sit and enjoy nature during the day or to stargaze at night.
Inside the caboose you'll find sleeping commendations for five with a full bath, kitchenette and dining nook. Nestled in a quiet and wooded private setting, you can explore outside during the day between hikes, enjoy meals out on the deck and then retreat to the new fire pit area nestled in the woods for s'mores!  Make your Hocking Hills stay a unique experience at the Hocking Hills Caboose!
To see all of Hocking Hills Tourism Association's Member Lodging Options, and to book your retreat, visit explorehockinghills.com/lodging. 
Posted: October 30, 2017