Athens Ohio, Home of Ohio's Windy 9
Athens Ohio, Home of Ohio's Windy 9 is a scenic and exciting ride through the hills and valleys of southeast Ohio.  There are nine routes which span from Somerset to the north to Gallipolis to the south.  Each route is distinctly different and showcases the abundant natural beauty of southeast Ohio.
Click the logo for individual loops and directions.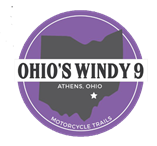 Athens Ohio, Home of Ohio's Windy 9 will take motorists to 35 points of interest including Ohio University, Southeast Ohio History Center and Strouds Run State Park in Athens.  The Hocking Valley Scenic Railway, Stuart's Opera House and Rocky Outdoor Gear Store are all located in Nelsonville. 
The United Mine Workers Union began with secret meetings in Robinson's Cave in New Straitsville.  The town has a long history of coal mining and moonshine.  The later is celebrated every year over the Memorial Day weekend at the Annual Moonshine Festival.
The Big Muskie Bucket is a popular attraction on State Route 78 near McConnelsville.  The massive earth moving apparatus once extracted more than 130 million tons of coal from a surface mine.  It is now the centerpiece of Miner's Memorial Park.  The Twin Opera House in downtown McConnelsville is a restored historic opera house offering movies and live shows. 
Burr Oak State Park is a true gem of Ohio's State Parks.  Burr Oak Lake is a 660-acre lake with a marina.  The Burr Oak Lodge and Conference Center overlook the lake and offer lodge rooms, dining and meeting rooms.  There are 7 trails in Burr Oak State Park including the 3-mile Buckeye loop trail.
Discover the first settlement of the Northwest Territory; Marietta, Ohio.  This historic city sits on the banks of the Ohio River.  People's Bank Theater and Adelphia Music Hall provide restored venues for a variety of entertainment.
Spend a little time in the historic towns of Pomeroy and Gallipolis before heading over the Ohio River to the Mothman Museum in Point Pleasant, West Virginia.  The 2002 thriller, "The Mothman Prophesies" starred Richard Gere and was based on actual events in Point Pleasant.
Head north to a haunted railroad tunnel.  The Moonville Tunnel ghost stories have been fascinating and frightening visitors for decades.  The Tunnel is located in the Zaleski State Forest near Lake Hope State Park.
Continue north to the Hocking Hills.  Explore the six non-contiguous parks that make up Ohio's most visited park.  Visit historic downtown Logan for shopping and dining.
Athens Ohio, Home of Ohio's Windy 9 is an epic adventure of scenery, history and entertainment.
Athens Ohio, Home of Ohio's Windy 9 has been created by the Athens County Convention & Visitors Bureau.
Click here to order the Ohio's Windy 9 map.