Hocking Hills Comfort Food Cruise
Annual Hocking Hills event, Comfort Food Cruise, to twelve Hocking Hills restaurants, each featuring a different comfort food.
January 11, 12, 18, 19, 25 & 26, 2020 
It's the 7th Annual Hocking Hills Comfort Food Cruise and
2020 brings more choices than ever!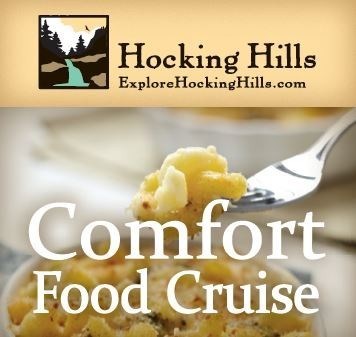 New in 2020, the Comfort Food Trail.  Enjoy Hocking Hills' locally owned eateries year-round on the new Comfort Food Trail.  With the purchase of a Comfort Food Cruise ticket, you will receive the new Comfort Food Trail Pass.  This card will entitle you to the special offers at all the Trail stops throughout 2020.
The Comfort Food Trail Pass is only available with the purchase of a 2020 Comfort Food Cruise ticket.  The 2020 Comfort Food Cruise highlights classic comfort foods served up in locally-owned restaurants over 3 weekends in January.  With the new Comfort Food Trail Pass you will continue to enjoy great dining deals all year.
Whether it feels like home, or it's your first time in our neck of the woods, there's no better way to explore the region than on a cruise through the Hocking Hills. Enjoy the beauty of winter while indulging in some of your favorite comfort foods. For six days, you can taste these dishes all around the region. Go for the gusto and try to taste all in a day or take a leisurely tour and take as long as six days. Best of all, there are plenty of things to do in Hocking Hills. At the first guilty twinge, just set out for a hike on one of our trails toward a popular site such as Old Man's Cave, Ash Cave, Rock House and Conkle's Hollow, Cedar Falls and Cantwell Cliffs. In addition to using some of that comfort food fuel, you will be treated to a feast for the senses as you pass cave walls covered with ice beards and waterfalls frozen in suspended animation.
Tickets are $20 each.  $5 of every ticket book sold will benefit local food pantries.  
Three easy ways to buy your tickets: 
Purchase tickets in person
Stop by the Welcome Center to pick up your tickets. Cash, check or credit cards accepted.
Purchase tickets by mail
Send your name, address and the number of tickets you want with your check to Comfort Food Cruise, Hocking Hills Regional Welcome Center, 13178 State Route 664 S, Logan, OH 43138.
Purchase tickets online - Tickets will be available for purchase November 4, 2019 but will not ship until December 1, 2019
Your tickets will be sent, along with a map, via USPS. If you are purchasing tickets close to the dates you plan on cruising your tickets will be available for you to pick up at the Hocking Hills Welcome Center at US 33 & State Route 664 S in Logan. For more info, contact Audrey Martin at amartin@explorehockinghills.com or call 740-385-2750.
---
 Plan your cruise
 Begin your cruise at the Hocking Hill Regional Welcome Center to pick up your free Comfort Food Cruise souvenir and purchase your tickets -- 13178 State Route 664 S, Logan. While there visit the world's only Pencil Sharpener Museum.
2020 participating restaurants: 
Bush's Restaurant – Serving Homemade Chili 

Hocking Hills Coffee Emporium - Serving Carmel Pecan Cinnamon Roll or Apple Danish

Hocking Hills Diner – Serving Banana Bread French Toast

 

Home Tavern – Serving Sloppy Joe Slider and Cup of Soup

Inn & Spa at Cedar Falls – Serving Mixed Berry Cobbler

M&M Family Diner – Serving Vegetable Soup

Mam's Rusted Skillet -Serving Cheeseburger Slider & Homemade Chips

Millstone BBQ – Serving Pulled Pork Sliders & Baked Beans

Nelsonville Emporium Kitchen - Serving Homemade Pretzel

Pearl's - Serving Biscuits & Gravy

Pizza Crossing –Serving 8" Pepperoni or Cheese Pizza

The Boot Grill - Serving Baked Steak Sliders & Loaded Baked Potatoes

The Olde Dutch – Serving Chicken & Noodles or Mashed Potatoes

The Ridge Inn Restaurant – Serving Meatloaf

Treehouse Treats & Treasures – Serving Jr. Ice Cream Cone

 
More events in Hocking Hills
Looking for more things to do in Hocking Hills during your cruise? After you purchase tickets online, request your free Official Visitor's Guide here.