Hocking Hills Comfort Food Cruise
Annual Hocking Hills event, Comfort Food Cruise, featuring twelve Hocking Hills restaurants, each showcasing a different comfort food.
The 9th Annual Hocking Hills Comfort Food Cruise
March 2, 3, 9 & 10 2024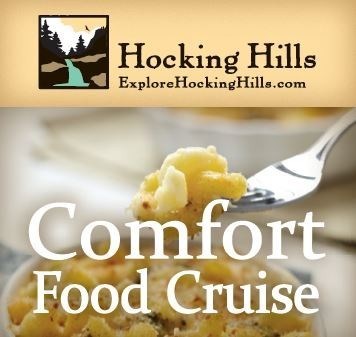 The Hocking Hills cuisine scene is all about comfort. This is the land of locally owned eateries serving up classic comfort food every day. You will find homemade noodles, real mashed potatoes, banana bread French toast, mom's meatloaf and the ultimate grilled cheese, just to name a few tasty offerings.
On March 2, 3, 10 and 11 you can cruise through the Hills tasting an assortment of delectable dishes.
The 2024 Hocking Hills Comfort Food Cruise features twelve locally owned restaurants serving up their most comforting specialties. Begin with breakfast served as early as 7 am and continue into the evening each day. Tickets are only $20 for twelve great comfort foods. You will not only be supporting small businesses, $5 of every ticket sold is donated to the local food pantries.
The Comfort Food Cruise is a guilt free culinary tour. Stop by any of the many parks in the region to build an appetite or hike away the calories. March is a great time to visit the Hocking Hills and enjoy Mother Nature and "Mom's" cooking.
Coming in January 2024, the Hocking Hills Comfort Food Trail. This year-round culinary trail will feature more restaurants and more great comfort foods.
Three easy ways to buy your tickets: 
Purchase tickets in person
Stop by the Welcome Center to pick up your tickets. Cash, check or credit cards accepted.
Purchase tickets by mail
Send your name, address and the number of tickets you want with your check to Comfort Food Cruise, Hocking Hills Regional Welcome Center, 13178 State Route 664 S, Logan, OH 43138.
Purchase tickets online - Tickets will be available for purchase February 1, 2024. 
Your tickets will be sent, along with a map, via USPS. If you are purchasing tickets close to the dates you plan on cruising, your tickets will be available for you to pick up at the Hocking Hills Welcome Center at US 33 & State Route 664 S in Logan. For more info, contact Audrey Martin at amartin@explorehockinghills.com or call 740-385-2750.
---
 Plan your cruise
Begin your cruise at the Hocking Hills Regional Welcome Center to pick up your free Comfort Food Cruise souvenir and purchase your tickets -- 13178 State Route 664 S., Logan. While there, check out the photo opportunities with the giant Monarch wings in the weigh station or 3D letters in the pioneer garden.
2023 participating restaurants: 
More events in Hocking Hills
Looking for more things to do in Hocking Hills during your cruise? After you purchase tickets online, request your free Official Visitor's Guide here.