Stories from the Hills: Rainy Day Engagement
Gina Rossi's story cannot get any more romantic!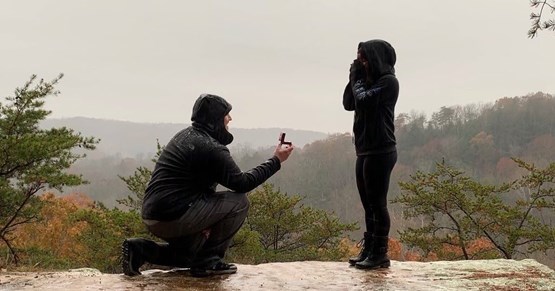 Hocking Hills was our first getaway together. Not long after we started dating in 2016, we took a November trip to Hocking Hills together for the first time. We both had been there previously but not together, and not for a while, so we were excited to experience together. We loved it so much, we ended up returning 4 more times over the years that we've been together which has been 4.5 years now.
On November 23rd, 2019, we took our last trip to Hocking Hills together where we got engaged! We stayed Friday-Sunday. After deciding to try Air Plane Rock on Saturday, since it's a different one than what we usually do, we got there and the weather wasn't looking the greatest. We decided to take the hike anyway, a little rain wouldn't hurt. After not realizing that the hike was a bit longer than we thought, we got caught in a down pour on the hike to airplane rock. Never doing this hike before, it took us a minute to wonder if we were even headed in the right direction. Standing in the rain soaked, we decided that we must be half way there so we kept going! Hung out in an outhouse for about 15 minutes thinking maybe it would stop raining. It didn't.
We were soaked and cold but we came all this way and wanted to at least get a quick pic and look at airplane rock! We made the run for it! Once we finally reached it, I put my phone on a tripod to get a quick photo. He said he would set the self timer on my phone for me. Little did I know, he actually put the video on, and proposed. There was nobody else around except for us, and this is one day that I will forever remember every single moment of. One of the happiest days of my life. And one of my most favorite memories! Cold, wet, and pure happiness! Settling down in the hot tub that night felt good though! Hocking Hills is special to us, and we will continue to come back whenever we get the chance!
Posted: February 19, 2021