Age appropriate fun with kids in the Hocking Hills
Once they've grown, some of your kids' fondest memories will be of those weekend getaways in Ohio's Hocking Hills that you shared as family and friends. There are plenty of age-­appropriate activities in the region for every stage of a child's life.
Ages 0-5

Beaches are safe and not-too-stimulating places to take young children. The beach at Lake Logan State Park is perfect for building sandcastles and wading in the shallow water. The park has picnic areas and a shelter house that can be reserved.

You likely already know how much kids like trains (especially if your own child is really into them), and the Hocking Valley Scenic Railway can't be beat for a child's first train ride. Trains run on the weekends Memorial Day through October. Check the website for special event trains, such as Eastern Bunny Train and Halloween Train. Group and charter options are also available.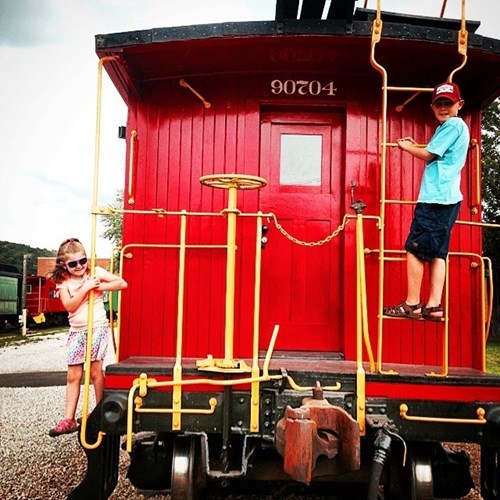 Photo by @triciaannie via Instagram

Also geared toward small children is AHA! A Hands-­on Adventure museum in Lancaster. Exhibits include a domino table, a pipe xylophone, a build-a-house exhibit and a face paint table. The "plop zone" is designed for kids ages 3 and under.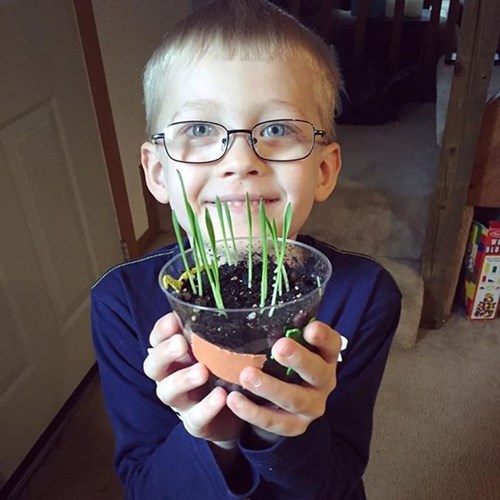 Photo by @ahachildrens via Instagram
Ages 6-­10

At this age, kids are ready to hike on their own two feet. Be sure to start with a short hike with a good ease-to-scenery ratio as the best way to help them enjoy it so much they'll want to do it again. The most popular trail that meets these criteria is trail to Ash Cave in Hocking Hills State Park – it's just a quarter mile (one way) and then there's plenty of cave to explore once there. The Gorge Trail at Conkles Hollow State Nature Preserve is a paved, half-mile (one way) trail surrounded by towering rock cliffs on either side. (Do not take small children on the rim trail – it has dangerous drop-offs.) The trail ends at a small waterfall.

To make it more engaging, try bringing some of the Peterson's First Guides books to help identify plants, birds, amphibians and insects.

Lake Hope State Park offers an unusual and memorable experience for the kids with a hand-feeding hummingbird program, which is offered at 1 p.m. Thursdays through Sundays from July to September. Watch the naturalist take down the regular hummingbird feeders and hand out plastic vials of sugar water trimmed with red pipe cleaners (meant to mimic a red flower). Children who are very patient – and very still – may be rewarded with a live hummingbird feeding from their hand.

This is a good age range for your child's first canoe trip. Local canoe liveries offer affordable trips on relatively calm water for outings that won't turn into epics. Sights include forested riverbanks, farmland and sandbars. Some trips include a side hike to see the natural rock bridge at Rockbridge State Nature Preserve.
Ages 11-­15

As the kids get older, it's time to take it up a notch on your next weekend getaway to the Hocking Hills. Ziplining is one of the more exciting outdoor adventures in the region – that is, for those who weigh 70 pounds or more. By this age most kids do, so plan your family or group's first ziplining tour once everyone makes the weight. (FYI, 250 pounds is the high end of the weight requirement.)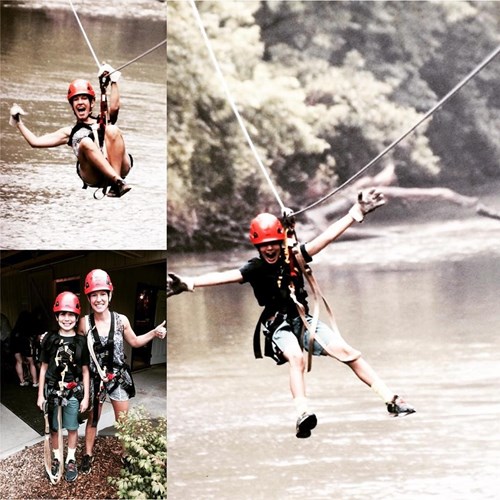 Photo by @apheis via Instagram

Rock climbing and rappelling is another choice in the Hocking Hills that's perfect for more adventurous kids who are ready to tackle their fear of heights – assuming they have any such fears to begin with. Reputable guiding services can help your group enjoy these sports safely in the Hocking State Forest Rock Climbing and Rappelling Area.

In Ohio, kids age 15 and under can fish without a license. Cast a line at Lake Logan or Lake Hope for bass, bluegill, catfish and crappie. You can find a guide, boat or bait by searching our fishing listings.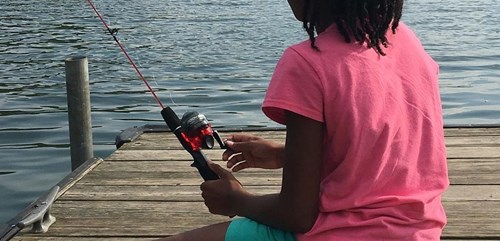 Photo by @byrdeyeviews via Instagram
Ages 16 and up

At this age, kids are old enough to self-direct what they want to do, to help with trip planning and to tackle more difficult outings. For animal lovers, horseback riding is the ticket. Some stables set 16 as a minimum age for riders. No horse, no problem. Sit down with your kid(s) and review the stable offerings in the Hocking Hills region to decide what kind of horseback riding adventure they prefer, from a short outing to a chance to play cowboy/cowgirl for a day.

The Hockhocking Adena Bikeway is a paved, 21-mile trail that connects Nelsonville and Athens. Have your teen help you plan a starting and ending point, and attractions to see along the way. If you aren't able to bring your own bikes, start in the middle in the Eclipse Company Town (a restored mining company town) in The Plains and rent bicycles from Black Diamond Bicycles and head in either direction. The restaurant selection in Athens seven miles southeast down the trail (and up the hill) is large. Refuel and head back to where you started or even beyond.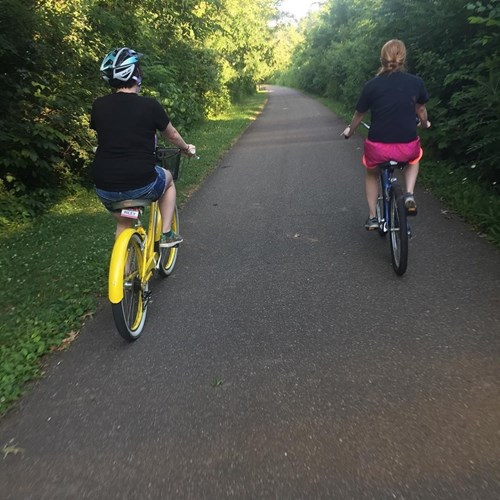 Photo by @s_maffin via Instagram

For the fit and adventurous teen in your life, consider backpacking in Zaleski State Forest. The backpacking trail has loop hiking options of 10 and 23.5 miles and three backcountry campsites with cistern water.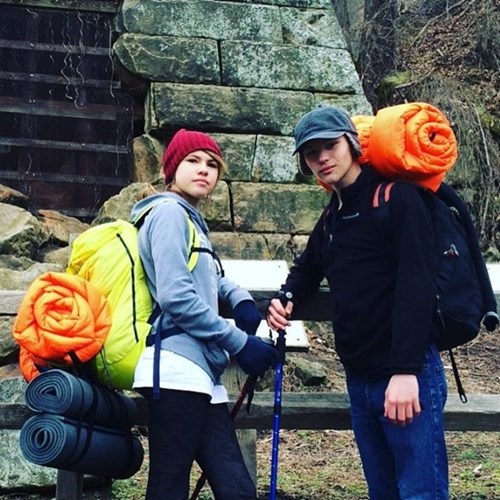 Photo by @zlorak22 via Instagram
For kids of all ages

Weekend getaway, by definition, means you'll be spending the night. For a kid-friendly outing, this usually means camping. The Hocking Hills offers a very wide variety of camping options, from RV parks to tent camping to tipis. Find the one that will suit your group's

needs and then enjoy cooking hot dogs and s'mores over the fire, playing card games, star gazing – and telling stories from your own bank of memories, old and new.
Posted: July 06, 2016