Simple Living: How to find that peaceful Hocking Hills adventure you've been dreaming of
Simple Living is a weekly guest column featuring the perspective of Hocking Hills locals and HHTA member organizations willing to share the best of the region for all can enjoy. Published every Monday, this month's theme highlights #Adventure in the hills.

By Mary Marsh of Marsh Hollow Cabins.

While the Hocking Hills area abounds with many exciting adventures – zip lining, mountain biking, ATV riding, rappelling, etc. – at Marsh Hollow we have found that most of our guests are visiting us for the peace and quiet.  They not only want to enjoy it in their lodgings but also along our beautiful Hocking County trails.  They are here to enjoy the sweet tranquility of the forest.  Sometimes that can be a challenge given the increasing popularity of our area. Here's how to have a more peaceful "adventure:"


Visit in the off season (roughly November through February). This is also a good time to save some money with lower rental rates.
Visit during the week. Fewer day trippers will be here and rates will be lower.
Select a cabin that is well separated from other cabins or dwellings, and which is ideally located on a forested property with its own trail (yep, Marsh Hollow has this).
Get up early to hike or go later in the afternoon, especially at the popular sites such as Old Man's Cave. Be careful with those late day hikes. My husband and I once hiked the gorge trail between Old Man's Cave and Cedar Falls but were almost in complete darkness at the end.  Needless to say, we saw no one.  Plus the parks close at dusk.
Follow less used trails. Yes, you will want to go see the caves and falls, but there are many other less known trails.  How do you find these trails? See "The Buckeye Trail System in Hocking County below."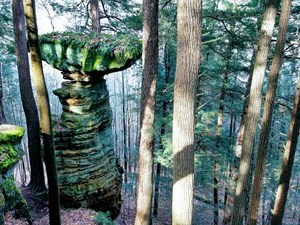 The Buckeye Trail

The Buckeye Trail (BT) links the four corners of Ohio and is a continuous hiking trail. It is marked by blue paint blazes along the trail. The Old Man's Cave Section is just over 43 miles long and begins at Walnut-Dowler Rd. and State Route 664 in Hocking County and ends at Tar Hollow State Forest in Ross County.  While a bit of it is along township roads, most of it is on quiet forest trails.  The BT runs through the Old Man's Cave – Cedar Falls – Ash Cave gorge (about 6 miles in all) leaving another 37 miles for you to explore and find your own private forest.

I don't want to completely give away our favorite stretch, but here is the description from the BT trail map:

BT climbs beneath, then through, looming sandstone cliffs to an amazing balancing rock formation.  BT then meanders above the rappelling area and offers fine overviews of the cliffs.

The photograph with this post is of that amazing balancing rock formation, called "Table Rock."  I took the photo on a warm February Saturday afternoon and saw only two other people on the trail.  I think I've given you enough hints to find it!

Visit the Buckeye Trail web site at www.buckeyetrail.org for more information and to order your trail maps.  May you have a peaceful adventure!

 
Posted: March 13, 2017