My Hocking Hills: Britany Freeman
Want recommendations for the Hocking Hills from someone that loves exploring the area? Check out what Britany Freeman has to say.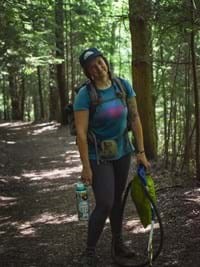 We've been getting to know Britany Freeman over on Instagram during the last year. If you follow her account, you'll be following someone that fiercely loves the Hocking Hills and will do everything in her power to protect our area. To say that we love that about her is an understatement. 
With her love of the Hocking Hills and how much time she spends exploring the area, we thought she'd have some great tips for your next trip. We were right. Check out what she had to say:
Why do you love the Hocking Hills: I love Hocking Hills because it's truly a hidden gem of the midwest. Every season brings something beautiful and no two trips are ever the same. Even the weather can transform it into something beautifully unique.
What do you love to do in the Hocking Hills: Hiking is my favorite activity.
Favorite trail: Grandma Gatewood because it's nothing but waterfalls in spring time and really showcases what makes Hocking Hills so beautiful. I also really enjoy the 21 Horse Cave Trail in Hocking State Forest.
Favorite place to stay: The hike-in campground at the park because you get a primitive experience without going very far.
Your best Hocking Hills tip: My biggest tip is to do your research. Understand the trails and speak to rangers. Make sure you understand the rules and why they are in place, both for your safety and to preserve the land.
What else should people know: Please make sure you stay on trail to help prevent early erosion and habitat damage. Obey the signage so others can enjoy all its beauty for years to come. Educate yourself on outdoor ethics and safety. Please take out all trash that you take in with you to help keep Hocking beautiful.
Posted: July 29, 2019